Team City Harvest: Marathon & Wellness Club
Team City Harvest: Marathon & Wellness Club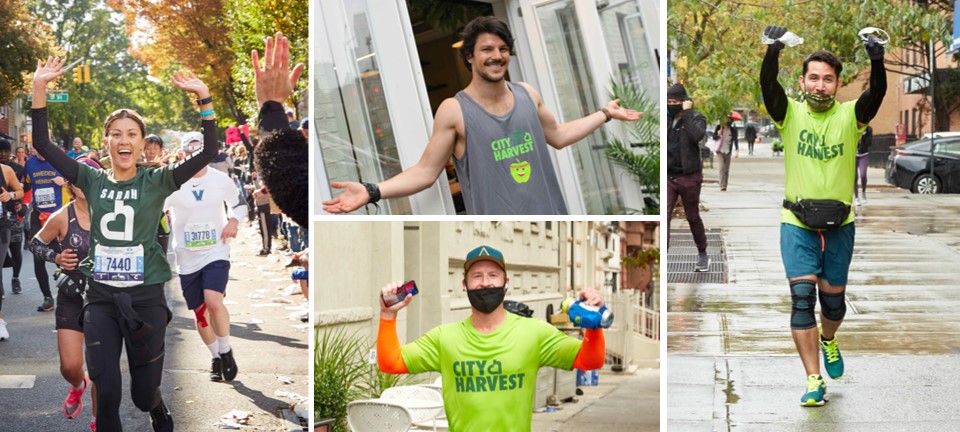 Run Miles. Feed Smiles. Feed GOOD.
The TCS New York City Marathon represents the best of New York―when all New Yorkers come together to support each other and cheer on their neighbors. For the ninth year, City Harvest has been selected as a charity partner for the 2021 TCS New York City Marathon taking place on Sunday, November 7. This year, City Harvest is building a team of 75 runners that will be captained by City Harvest Food Council member Dan Churchill, Executive Chef of Charley St. The team has a goal of raising enough to help feed more than a million New Yorkers who are struggling to put meals on their tables.
Donate to Support Team City Harvest
Team City Harvest runners receive access to perks, such as a personal fundraising web page, a custom training program, a signature City Harvest running shirt, and team wellness events. Their friends and family will also be invited to our exclusive team events, such as the Race Day Viewing Party and the Post-Race Celebration Party—which have been held at Melba's, The Gibson, The Meatball Shop, and Seamore's—and all team runs and training sessions. Should you not be located in New York City on November 7, New York Road Runners will also host a Virtual Marathon for any runners hoping to run 26.2 miles, wherever you may be!
Not up for running the full 2021 TCS New York City Marathon this year? We understand and have additional opportunities for you, your family, and friends to support City Harvest and join the Team City Harvest Wellness Club!
Learn More About Joining Team City Harvest
To join the Team City Harvest Wellness Club or to get on the waitlist for the Marathon, please contact Natalie Grammer at [email protected].
For more information on Corporate Opportunities, please contact Gabrielle Mizrahi at [email protected].