Starbucks FoodShare and City Harvest
As a member of the Feeding America® network, City Harvest is proud to partner with local Starbucks locations in New York City to launch the FoodShare program. As part of FoodShare, nourishing, ready-to-eat meals are donated each night to City Harvest for distribution, free of charge, to our network of soup kitchens and food pantries. To kick off the Starbucks FoodShare program in New York City, more than 100 Starbucks Partners (employees) gathered in Madison Square Park to pack 5,000 snack boxes for kids that City Harvest will deliver to community food programs across the five boroughs.
The FoodShare program started as a result of Starbucks Partners who advocated for a solution to donate unsold food and distribute it to people in need. Starbucks has set a goal to rescue 100% of food available to donate from its more than 7,600 U.S. company-operated stores. At scale, the program will collect an estimated more than 50 million meals annually.
The program is launching in New York City with donations from 45 local Starbucks locations, and is estimated to provide over 197,000 pounds of food, or the equivalent of close to 164,000 meals*, annually in New York City. When the program is fully launched in 2018,  all 305 Starbucks stores in Manhattan will participate, donating the equivalent of more than 1 million meals annually to City Harvest for our neighbors in need.
Get involved by volunteering or donating and join with Starbucks and City Harvest to help ensure that excess food is delivered to New Yorkers in need.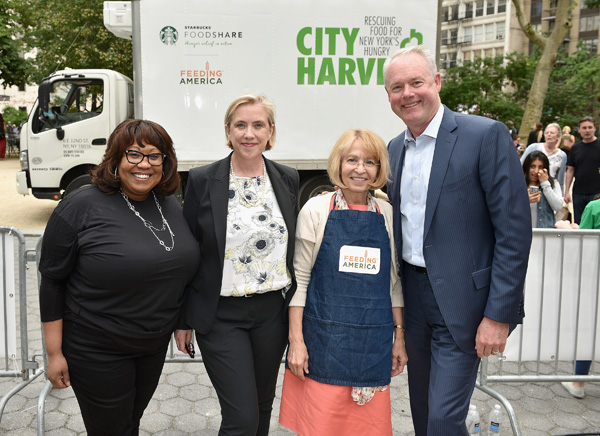 Read about our partnership in Fortune.com
Read our CNBC op-ed with Starbucks CEO Kevin Johnson and Feeding America CEO Diana Aviv
(*According to the USDA, 1 meal is the equivalent of 1.2 pounds of food.)