Let's Drive Hope Together: Hunger Action Month 2020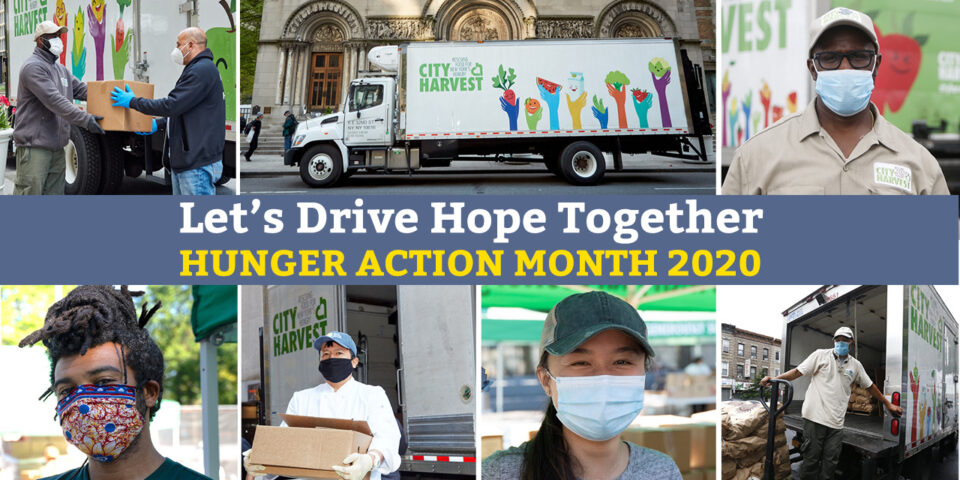 September is Hunger Action Month, a nationwide campaign mobilizing all of us to take action against hunger in our communities. Your help has never been more vital than it is now.
Even before the pandemic, 2.5 million working-age New Yorkers were struggling to make ends meet. The number of New Yorkers experiencing food insecurity is surging during this economic crisis. City Harvest is committed to feeding everyone who was relying on us before this crisis, and the many more who are turning to us now during this profoundly challenging and uncertain time.
We need your help making sure all New Yorkers have access to fresh, healthy, affordable food. Every action, no matter how big or small, will make a difference.
We can volunteer our time, donate funds, spread the word, or advocate for policies that support our communities. Learn how you can join us below, and empower your friends and family to take action by joining our social media campaign.
This Hunger Action Month, two generous friends of City Harvest are matching all gifts, dollar-for-dollar, up to $100,000. That means every $1 donated helps feed a NYC family in need.
---
Ways to Drive Hope
Our work is fueled by passionate supporters like you. Your support will help us rescue and deliver food for our neighbors who need it most.