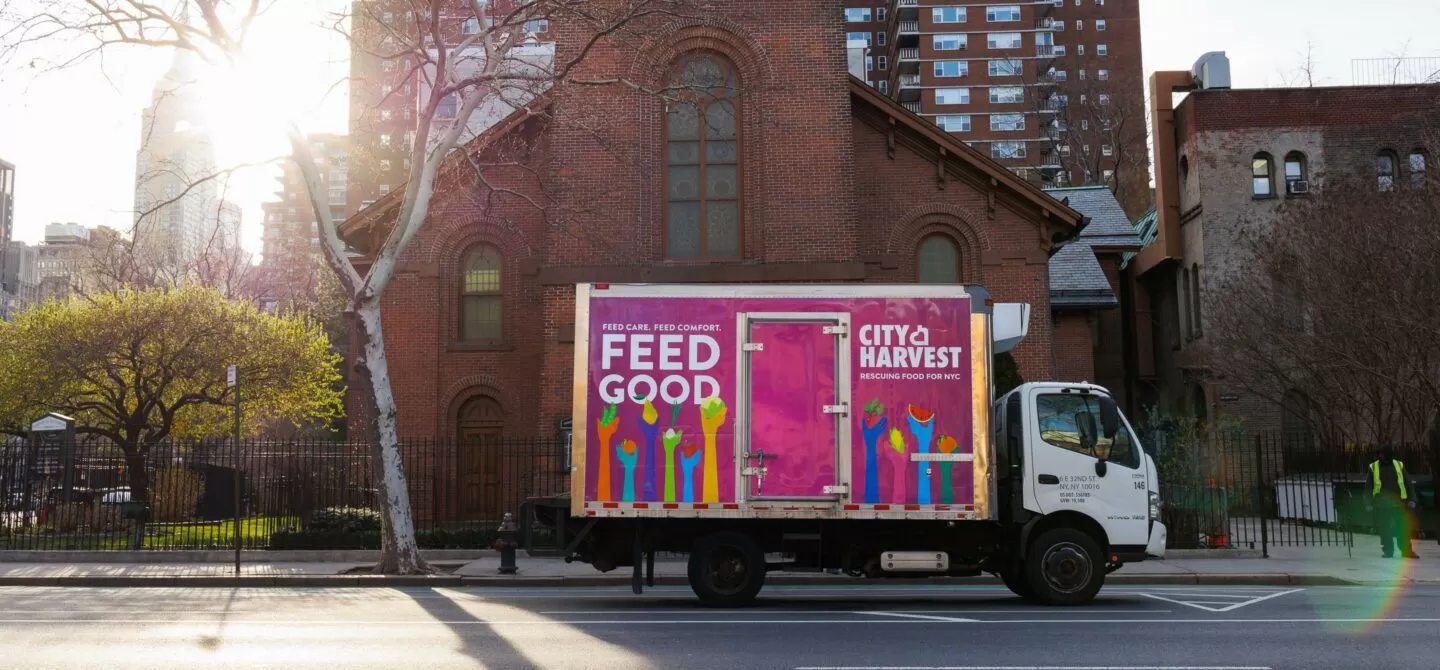 Disaster Response
Responding in Times of Crisis
Since our founding in 1982, City Harvest—New York City's private response to hunger and largest food rescue organization—has pivoted in real-time in response to crises, including 9/11, the Great Recession, Superstorm Sandy, and the COVID-19 pandemic.
Through participation in the New York City Voluntary Organizations Active in Disaster (NYCVOAD) group, City Harvest meets with our peer NYC feeding organizations throughout the year, building relationships and plans to ensure we are collectively positioned to respond collaboratively, quickly, and effectively in the face of disaster. As a leader of the group, City Harvest leveraged our experience in food distribution during disasters to create a food distribution tracking system for the more than twelve NYC nonprofits in this group to be shared with government officials.
As a member of Feeding America, the national nonprofit network of food banks and food rescue organizations, City Harvest has repeatedly shifted gears to meet the increased need for food in the aftermath of disaster in conjunction with our peer organizations.
Through the Years
2001: 9/11

We partnered with 167 new and existing food donors to distribute food immediately after 9/11,  and ramped up operations to rescue and deliver almost 10 million more pounds of food to meet the increased need during the two-year economic downturn that followed.

2008: Financial Crisis

We responded to the financial crisis by rescuing and delivering over 5 million additional pounds of nutritious food to feed an increased number of New Yorkers in need.

2012: Superstorm Sandy

City Harvest sourced and delivered more than 7 million pounds of food, including some 135,000 food boxes to 22 emergency food providers and 28 relief sites during the 15-week period following the storm.

2017: Hurricanes Maria, Harvey, and Irma

We worked with Feeding America, FEMA, and our sister food bank, Banco de Alimentos de Puerto Rico, along with their partners on the ground, to transport and deliver more than 393,000 pounds of food that we collected to be distributed to 135 community food partners across the island.

We also worked with Feeding America and Feeding Texas, the state association of all Texas food banks, to send four tractor-trailers with needed supplies, including repacked food and water, to Houston and a truckload of supplies to Beaumont; four City Harvest drivers each spent a week in Beaumont to assist with recovery efforts, and our then-Vice President of Program Operations, Jenique Jones, spent two weeks in Texas to provide advice and support to our peer feeding organizations on the front lines.

We sent water, repacked food, and supplies to our partner food banks in Florida, and deployed staff, including our Director of Donor Relations & Supply Chain Management, Racine Lee Droz, who spent two weeks in Florida to provide advice and support with restoring their retail donation program, and trucks on the ground to aid in recovery work alongside Feeding Northeast Florida, the regional association of Florida food banks.

2018: Hurricane Florence

We worked closely with Feeding America and Feeding the Carolinas, the state association of North Carolina food banks, to bolster recovery efforts.

Multiple City Harvest drivers supported food transportation operations, working with our partners on the ground to help deliver needed food to impacted communities and towns.

2018-19: Partial-Government Shutdown

We sourced, packed, and distributed 2,500 bags of fresh produce and non-perishable food to TSA workers and other federal employees near LaGuardia Airport and worked with our soup kitchen and food pantry partners to distribute additional food to JFK Airport employees.

2020: COVID-19

As a designated essential service, City Harvest doubled the amount of food we were rescuing and delivering for the growing number of New Yorkers in need.