It Takes A City to Feed A City
It Takes A City To Feed A City: Recognizing Our City Harvest Family
Thanks to dedicated friends, like you, City Harvest will rescue 118 million pounds of nutritious food this year and deliver it, free of charge, to hundreds of community programs across the five boroughs to help feed everyone who was relying on us before the pandemic, and the many more New Yorkers who are turning to us right now.
We can only do this work because of our supporters, friends, and partners, and we'd like to thank you by inviting you to participate in our new It Takes A City To Feed A City interactive photo mosaic!
Together, our food donors, agency partners, volunteers, Food Council members, corporate partners, supporters, community members, and staff are working to help feed our city during this profoundly challenging and uncertain time. The completed mosaic will be revealed in January and will be featured on our website and social media, on a City Harvest food rescue truck for six months, and on a digital billboard in Times Square! 
This image is a sample of how the final mosaic may look. Watch this video to see how it will come together.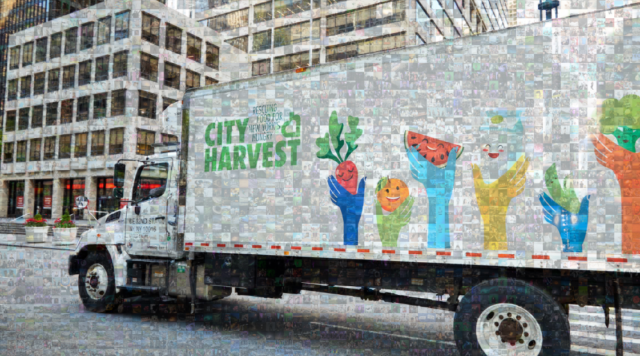 To be a part of our mosaic, email a personal photo to [email protected], along with the information bulleted below. (Don't worry, we won't share your personal information!)
Full Name
Email
Virtual Food Drive Team Name (optional)
Address (optional) 
Phone Number (optional) 
All of us at City Harvest thank you for your commitment to our work and for standing with us to nourish our NYC neighbors, especially this holiday season, which is unlike any other. Together, we are City Harvest, and together, we will feed our city—one day, one meal, one person at a time.
Learn more about sponsorship opportunities for the It Takes A City To Feed A City campaign.
Thank you to LA Photo Party for creating the It Takes A City To Feed A City mosaic!
Thank You to Our It Takes A City To Feed A City Sponsors