COVID-19 Relief Package
The passage of the COVID-19 emergency relief package on December 20, 2020, was an important step in dealing with the surging food insecurity crisis in New York City and across the country.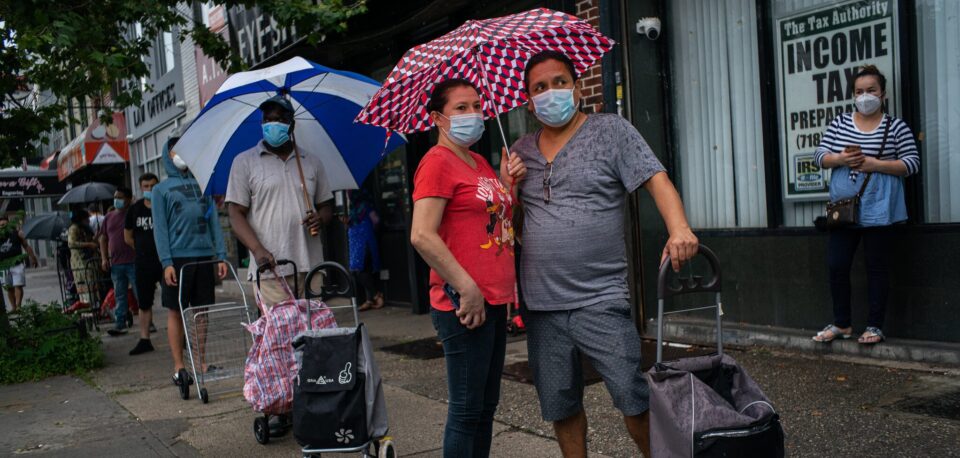 More than 2.5 million working-age New Yorkers were already struggling to make ends meet before the pandemic and that number continues to grow as the pandemic's economic fallout rages on.
The package provides some modest help for people experiencing food insecurity—including investing $400 million in The Emergency Food Assistance Program (TEFAP) and providing extensions and supports for families enrolled in the Supplemental Nutrition Assistance Program (SNAP) or who are facing unemployment. This is a step forward toward the much bolder, more sustained efforts we hope Congress will take up in the new year.
In the weeks before the vote, hundreds of food pantry and soup kitchen leaders sent nearly 1,200 letters to their local, state, and federal representatives, and a cohort of 35 leaders met with their members of Congress to advocate for a comprehensive COVID-19 emergency relief package. Many of the food assistance efforts in the relief package reflect those leaders' priorities. We look forward to continued engagement with our community and policymakers to ensure that subsequent legislation relieves the urgency of the food insecurity crisis—including extensions to SNAP increases, pandemic unemployment compensation, and other emergency relief provisions for the full duration of the recovery; state and local aid so that our state can effectively fight food insecurity and avoid drastic budget cuts and layoffs; and explicit support for struggling businesses such as restaurants and minority- and women-owned businesses so that they can keep their staff employed and shorten the pantry line.
The following provisions in the relief bill will help countless New Yorkers struggling during this crisis:
Increases in SNAP Benefits for Millions of Americans Facing Hunger
Provides a 15% increase in SNAP benefits for 6 months (

through June 30, 2021

) for all SNAP participants.
Excludes unemployment compensation from being counted as income for the purposes of calculating SNAP benefits and eligibility.
Provides college students access to SNAP by waiving requirements that apply only to students and giving them access to SNAP similar to impacted workers with reduced work hours due to COVID.
Provides $5 million to add additional retailers to online SNAP, including for farmers' markets and direct to consumer sales.
Supporting Food Banks and Seniors
Provides $400 million for food banks through the Emergency Food Assistance Program (TEFAP) with up to 20 percent for distribution of commodities.
Provides $175 million for nutrition services for seniors under the Older Americans Act, such as Meals on Wheels
Expands food access for children through continued school meal distribution flexibility
Includes improvement to Pandemic EBT (P-EBT) that will expand access to food benefits for children by allowing all children under age 6 to be deemed "enrolled" in child care, so they will be eligible for P-EBT benefit. The bill also clarifies what constitutes a "closure" making it easier to reach school-aged children with P-EBT assistance when schools are shifting between in-person, virtual and hybrid schooling.
Women, Infants and Children (WIC) Online Taskforce
Establishes a taskforce to test new technology in WIC to help with online, deliveries, self-checkout and other measures.
Other
$20 billion for vaccine distribution
$120 billion in extra unemployment help—Jobless workers will receive an extra $300 per week in federal support through March 14, starting as early as December 27. This is a decrease from the original $600 per week that ended in September. The legislation also extends employment benefits to self-employed individuals, gig workers and those who've exhausted their state benefits.
$325 billion small business boost—Pandemic-ravaged small businesses would see a total of $325 billion, including $284 billion in loans through the Paycheck Protection Program, $20 billion for businesses in low-income communities and $15 billion for struggling live venues, movie theaters and museums
$25 billion in Federal rental assistance and an extension to the eviction ban—Of the $25 billion in federal rental assistance, $800 million is set aside for Native American housing entities. A federal eviction ban has been extended through the end of January.
$45 billion in transportation aid—That includes $15 billion to help airlines maintain their payrolls, $14 billion for mass transit, $10 billion for state highways, $2 billion for airports and $1 billion for Amtrak (including approximately $4 billion for the MTA)
Tax rebates of up to $600 for individuals who earn up to $75,000 per year (phasing out through earnings of $99,000 per year).
Flexibility for States to leverage remaining CARES Act funding to balance State and Local budget priorities.
City Harvest and our community will remain vigilant in our work to provide food for families today and in our advocacy for legislation that builds resiliency beyond COVID-19. Please check back for rolling updates on the food provision above.