City Harvest's Advocacy Awards
City Harvest's advocacy team supports a citywide network of nearly 400 food pantry and soup kitchen leaders in advocating against hunger and its root causes.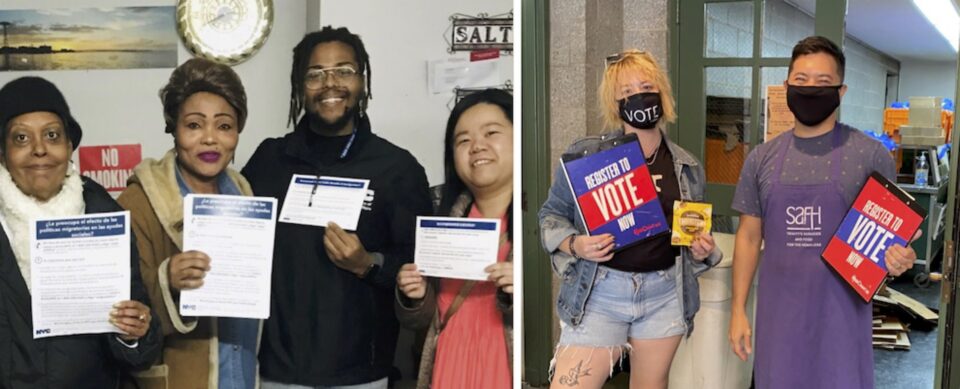 Throughout the COVID-19 pandemic, food pantries and soup kitchens were asked to step up in ways that we had never before imagined, delivering tens of millions of pounds to New Yorkers in need. Amid this historic demand for emergency food, the network of food pantry and soup kitchen leaders also advocated to end hunger in the long-term by making their voices heard.
While the dedication and work of each of our individual network members is truly inspiring, it is especially breathtaking to witness diverse organizations from across the five boroughs unite in solidarity to create a more equitable food system through collective action. The City Harvest Advocacy Awards recognize these exceptional frontline leaders for their advocacy contributions to fighting hunger in New York City.
Here are a few recent highlights of our collective advocacy efforts:

Pushed Back Against the Harmful "Public Charge" Rule. In response to the Trump Administration's public charge rule—a harmful policy which discouraged hundreds of thousands of immigrant families from enrolling in SNAP and other important public benefits—City Harvest and the NYC Mayor's Office on Immigrant Affairs launched the Week of Action on Public Charge, partnering with 10 of the largest food pantries in majority immigrant neighborhoods to provide Know Your Rights information and ensure people continued to receive vital benefits. As a result, nearly 50,000 New Yorkers received important resources and 350 letters were sent from food pantry and soup kitchen leaders to their elected representatives, leading to the recent end of the harmful and discriminatory rule.
Put Food Security at the Heart of COVID-19 Relief. Since March 2020, the citywide network has advocated to ensure that food security is at the heart of COVID-19 Relief Bills. Leaders from 138 food pantries and soup kitchens sent more than 1,200 letters to elected officials to ensure that no New Yorker is food-insecure during the pandemic. In addition, nearly 250 agency leaders were among the more than 4,000 peoples who advocated for frontline food pantry and soup kitchen workers to be eligible to receive the COVID-19 vaccine in New York State.
Ensured a Fair Count of New Yorkers in the Census. Many food pantry and soup kitchen programs partnered with City Harvest, the NYC Public Advocate's Office, HeadCount, and the 2020 Census to ensure that communities across New York City were represented and registered to vote.
And More. Nearly 20 meetings with elected officials and over 40 food pantry and soup kitchen leaders to advocate for policies that ensure that all New Yorkers are food secure.
---
Highlights from our Advocacy Award Recipients
Working with City Harvest has brought in the community aspect that we needed for our advocacy work. It's allowed us to see that there are so many other pantries and other people fighting for the same things that we are. It has also given us the leverage we needed to do more advocacy work. We have the space to hear about what City Harvest is focusing on, share what we need, and learn how we can get that up to the elected officials.
– Kelsey Simmons, Director of Programs, COPO
The best part of working with the City Harvest advocacy team was the lobby day. We were able to sit down with actual senators and council members and talk. And, they hear you, and they listen because we are on the front lines, we see the hunger, and we are feeding America.
– Karen Troublefield-Moses, Mt. Hebron Food Pantry
Through working with City Harvest, I've been able to meet so many more people in the emergency food space. Whether they are the ones donating the food, rescuing the food, advocating for policies, and also whether they are big organizations or smaller organizations, like houses of worship or small pantries. This pandemic has highlighted that there is a real power to the collective, and real tangible effects that come with strength in numbers. If every single food pantry—large and small—is talking about the same set of issues, then I think it is more likely we'll get the things that we need to better distribute food to the communities we serve.
– Alex Hughes, Director of Food and Nutrition, Project Hospitality
---
We are so proud to recognize the following organizations for their advocacy contributions to fighting hunger across New York City and beyond:
All Souls Church
Beraca SDA Church
Broadway Community Inc.
Brooklyn Faith SDA Church
Brownsville SDA Church
Calvary Assembly of God
Cathedral of Joy Church of God Inc.
Child Development Support Corporation
Christian Fellowship SDA Church
Christian Pentecostal Church
Church of God Inc.
COPO Food Pantry
Creston Avenue Baptist Church
Crossroads Community Services
Ebenezer Seventh Day Adventist Church
Educational Alliance Inc.
Emmaus S.D.A. Church
Every Day is a Miracle
Help House – Love Kitchen
Holy Innocent Church Inc.
La Jornada
Las Maravillas Del Exodo
LSA Family of Services
Mav Friendly Market
Metropolitan Council
National Council of Jewish Women
New Covenant Community Development Corporation
New Life Community Development Corporation
New York Common Food Pantry
North Brooklyn Angels
Park Slope Christian Help Inc (CHiPS)
Project Hospitality
River Fund Inc.
SA – Sunset Park Corps
Salt & Sea Mission
Salvation Army New York Temple Corps
Shiloh SDA Church
South Asian Council for Social Services
St. Albans Baptist Church
St. Augustine Food Pantry
SCO Family of Services/St. Christopher Ottilie
St. Edward Food Pantry
The Harding-Ford Vision
The Hope Center Development Corporation
The Urban Outreach Center of New York City
Thorpe Family Residence
Trinity's Services And Food for the Homeless
Triumphant Full Gospel
United Methodist Center
VETS, Inc.
Way Out Church Ministries Inc.
We thank all of our Advocacy Award recipients for their partnership! Interested in learning more about our efforts? Check out our Advocacy page.