Celebrity Chefs & Friends Golf and Tennis Tournament 2022
Celebrity Chefs & Friends Golf and Tennis Tournament Benefiting City Harvest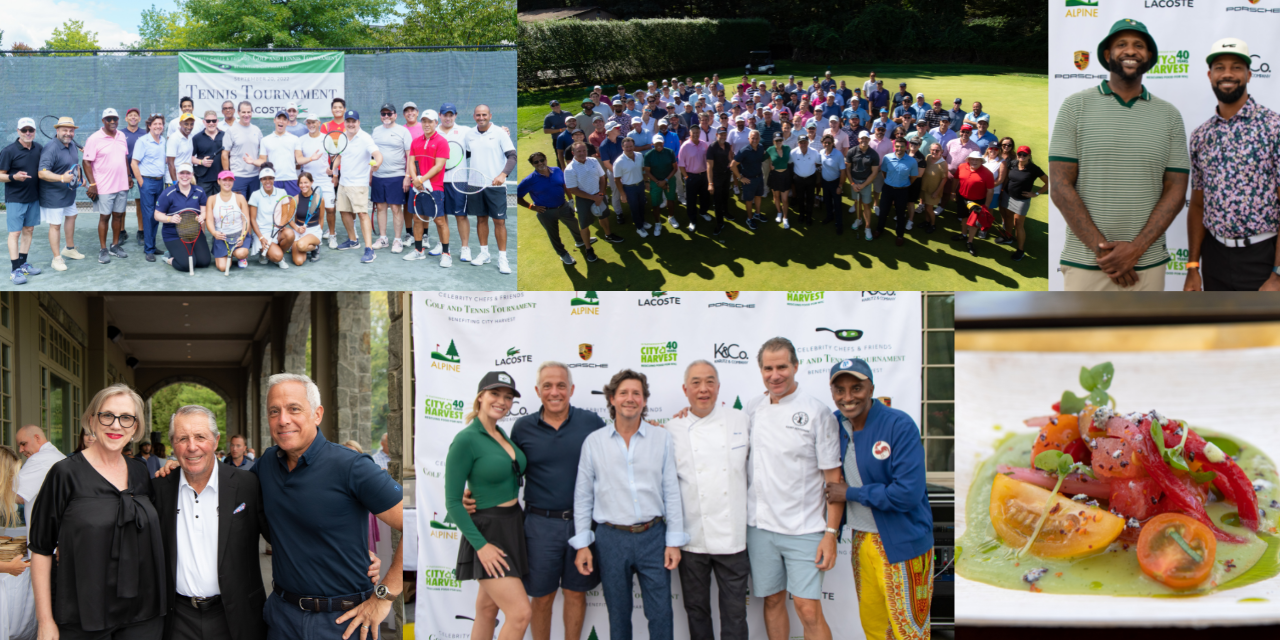 Tuesday, September 20, 2022

Hosted by:
The Legendary Gary Player
Golf Chair, Geoffrey Zakarian
Tennis Chairs, Kerry Heffernan & Simon Kim
Culinary Chair, Alex Lee
Executive Producer, Herb Karlitz
Associate Producer, Jeremy Aisenberg
On September 20, the legendary Gary Player hosted the third annual Celebrity Chefs & Friends Golf and Tennis Tournament benefiting City Harvest at the Alpine Country Club in Demarest, New Jersey. Golf foursomes were joined by a fifth player—a chef, celebrity, or sports personality. Chefs also joined players on the tennis courts. Throughout the day, golfers and tennis players enjoyed an incredible array of celebrity chef bites and specialty cocktails on the course, on the courts, and at the evening walk-around tasting reception.
The tournament raised enough to provide nearly 850,000 meals to New Yorkers in need.
2022 Celebrity & Chef Participants
Cosme Aguilar, Casa Enrique
Michael Anthony, Gramercy Tavern
Nobile Attie, Lucoli Brick Oven Pizza
Franklin Becker, Press Club Grill
Terrance Brennan, Brennan Group Hospitality
Josh Capon, Fly Fish Club
Samantha Casuga, Temple Bar
Kenny Callaghan, Boots & Bones
Josh Capon, Fly Fish Club
Cesare Casella, Casella's Salumi
Preston Clark, Lure Fishbar
Mike Cole, Mikey Likes It Ice Cream
Michael Cressotti, The Mermaid Inn
Rocco DiSpirito
Josh "Shorty" Eden
Todd English, The ENGLiSH Hotel, Las Vegas
Fabrizio Facchini, Urbani Truffles
Stephen "Octoman" Fried
Jose Garces, Garces Events
Michael Ginor, Hudson Valley Foie Gras
Marc Glosserman, Hill Country BBQ
Alex Guarnaschelli, Butter
Esther Ha, Momofuku Ko
Kerry Heffernan, Grand Banks
Matthew Katakis, Butcher Bar
Jamal James Kent, Crown Shy
Zahir Khan, GUPSHUP
Simon Kim, COTE Korean Steakhouse
Richard Kind
Alex Lee, Alpine Country Club
Kyle Lippert, The 130 Club
Roni Mazumdar, Dhamaka
John McDonald, Mercer Street Hospitality
Edward McFarland, Ed's Lobster Bar
Mark Messier
Hari Nayak, Cafe Spice
Helen Nguyen, Saigon Social
Chintan Pandya, Dhamaka
Gary Player
Don Pintabona
Alfred Portale, Portale Restaurant
David Rabin, Temple Bar
Dan Reilly, Reilly's Rib Cage
Jimmy Rizvi, GUPSHUP
Jason Rosenthal, Brick + Dough
CC Sabathia
Marcus Samuelsson, Hav & Mar / Red Rooster
Orlando Sanchez, Butcher Bar
David Shim, COTE Korean Steakhouse
Paige Spiranac
John Stage, Dinosaur Bar-B-Que
Ron Straci, Rao's
Carlos Swepson, BLVD Bistro
Justin Tuck
Cédric Vongerichten, Wayan
Herb Wilson
Melba Wilson, Melba's
Jonathan Yarwood
Chris Young
Geoffrey Zakarian
View photos from the event on Facebook.
---
Thank You to Our Sponsors