Celebrity Chefs & Friends Golf and Tennis Tournament 2022
Celebrity Chefs & Friends Golf and Tennis Tournament Benefiting City Harvest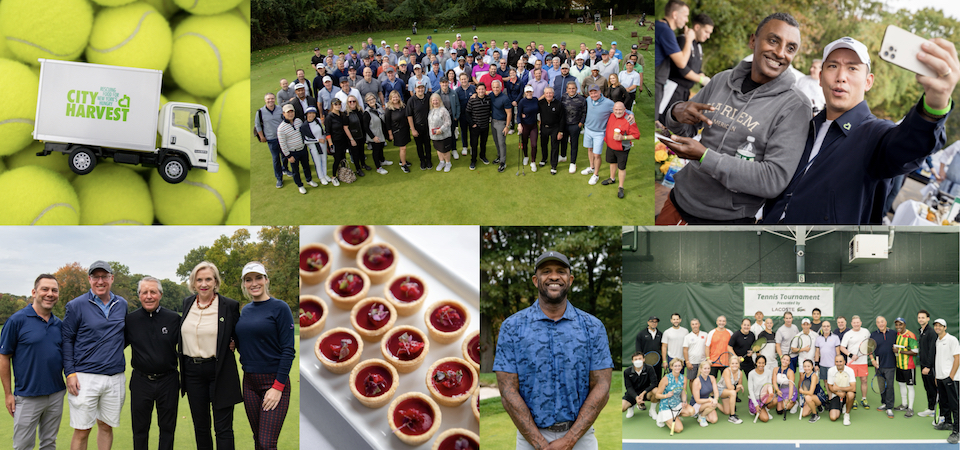 Tuesday, September 20, 2022
10am—Golf Registration / Warm Up at Driving Range
12pm—Golf Shotgun Start
12pm—Tennis Registration
5:30pm—Reception Begins 
Alpine Country Club, Demarest, New Jersey (Google Maps)
Golf & Tennis Registration Make a Contribution
Hosted by:
The Legendary Gary Player
Golf Chair, Geoffrey Zakarian
Tennis Chairs, Kerry Heffernan & Simon Kim
Culinary Chair, Alex Lee
Executive Producer, Herb Karlitz
Associate Producer, Jeremy Aisenberg
Join us on Tuesday, September 20 at Alpine Country Club in Demarest, NJ, for a one-of-a-kind day of golf, tennis and fun! Golf foursomes will be joined by a fifth player—a chef, celebrity, or sports personality. Chefs will also join players on the tennis courts. Throughout the day, golfers and tennis players will enjoy an incredible array of celebrity chef bites and specialty cocktails on the course, on the courts and at the evening walk-around tasting reception.
2022 Celebrity & Chef Participants
Michael Anthony
Nobile Attie
Terrance Brennan
Josh Capon
Samantha Casuga
Preston Clark
Michael Cressotti
Rocco DiSpirito
Josh "Shorty" Eden
Fabrizio Facchini
Stephen "Octoman" Fried
Michael Ginor
Marc Glosserman
Alex Guarnaschelli
Kerry Heffernan
Matthew Katakis
Jamal James Kent
Zahir Khan
Simon Kim
Alex Lee
Roni Mazumdar
John McDonald
Edward McFarland
Mark Messier
Chintan Pandya
Gary Player
Alfred Portale
David Rabin
Jimmy Rizvi
CC Sabathia
Orlando Sanchez
David Shim
Paige Spiranac
John Stage
Ron Straci
Justin Tuck
Cedric Vongerichten
Jonathan Yarwood
Chris Young
Geoffrey Zakarian
*As of July 22
In 2021, the event raised enough to help City Harvest feed 100,000 New York City families for a day!