Celebrity Chefs & Friends Golf and Tennis Tournament 2023
Celebrity Chefs & Friends Golf and Tennis Tournament Benefiting City Harvest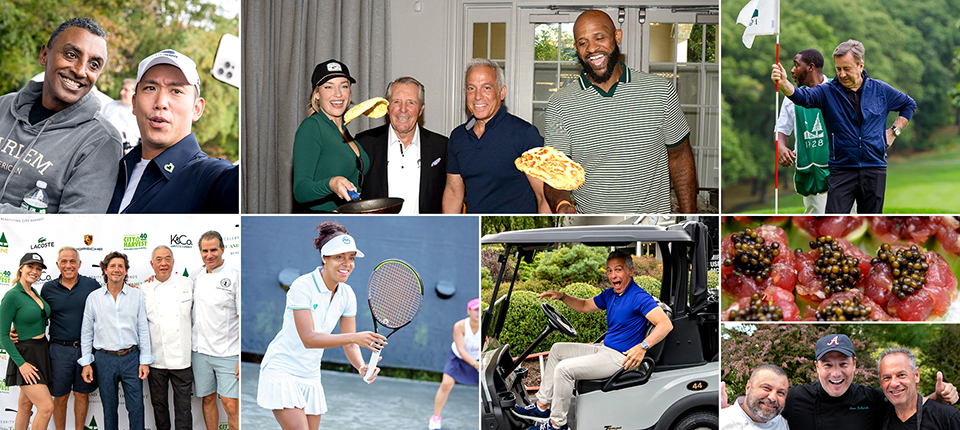 Monday, May 8, 2023
9:30am—Golf Registration and Brunch (Alpine Country Club)
12pm—Golf Shotgun Start
12:30pm—Tennis Registration and Bites (Montammy Golf Club)
2:30pm—Tennis Tournament
5:30pm—Walk-Around Tasting Reception (Alpine Country Club)
Alpine Country Club, Demarest, New Jersey (Google Maps) 
Hosted by:
Paige Spiranac, social media personality, former professional golfer and model
Golf Chair, Geoffrey Zakarian
Tennis Chairs, Kerry Heffernan & Simon Kim
Culinary Chair, Alex Lee
Associate Producer, Jeremy Aisenberg
Founder/Executive Producer, Herb Karlitz

Join us on Monday, May 8, 2023, at Alpine Country Club in Demarest, New Jersey, for a unique golf and tennis experience that has been described as "the best food festival ever experienced on a golf course!" Star chefs, notable restaurateurs, and sports personalities join players for their sport of choice—golf or tennis—amid a dazzling array of food, cocktails, and wines, offered throughout the day and at a post-event walk-around reception. 
In 2022, The Tournament raised enough to provide nearly 850,000 meals to New Yorkers in need.
2023 Celebrity & Chef Participants
Giuseppe Agostin, Verana
Michael Anthony, Gramercy Tavern
Nobile Attie, Lucoli Pizza
Aliyyah Baylor, Make My Cake
Franklin Becker, The Press Club Grill
Josh Beckerman, Foodie Magician
Yannick Benjamin, Beaupierre Wines & Spirits
Terrance Brennan, Brennan Group Hospitality
Jonathan Broadwater, CZEN RESTAURANT
Kenny Callaghan, Boots & Bones
Josh Capon, VCR Group
Len Cariou
Cesare Casella, Acetaia del Sole
Chris Cipollone, Francie
Preston Clark, Lure Fishbar
Michael Cressotti, The Mermaid Inn
Tommy Demaras, Verana
Michael Dorf, City Winery
Josh Eden
Todd English
Fabrizio Facchini, Urbani
Tony Froyan, Fire & Feast Catering
Jose Garces, Amada
Cinzia Giunta, Italia Development Group
Marc Glosserman, Hill Country BBQ Market
Adam Goldberg, Popup Bagels
Anthony Goncalves, Kanopi Events
Chris Grazione, City Winery
Galo Grijalva, Empanada Mania
Esther Ha, Momofuku Ko
Kerry Heffernan, Grand Banks
Eric Huang, Pecking House Brooklyn
Mcintyre Johnson, Barbuto
Matthew Katakis, Butcher Bar
Jamal James, Kent Crown Shy
Simon Kim, COTE Korean Steakhouse
Lana Lagomarsini, Lana Cooks
Alex Lee, Alpine Country Club
Kevin Liles, 300 EntertainmentBuddha Lo, Huso
Pino Luongo, Morso Restaurant
Lenny Messina, Hudson Valley Farms
Harold Moore, Charlie Palmer Collective
Bryan Noury, Manasquan River Club
Alfred Portale, Portale Restaurant
Dlynn Proctor, Fantesca Estate & Winery
Rao's
Dan Richer, Razza
Jimmy Rizvi, GUPSHUP
Melissa J. Rodriguez, Al Coro, Mel's & Discolo
CC Sabathia
Marcus Samuelsson, Red Rooster
Orlando Sanchez, Butcher Bar
Richard Sandoval, tán
David Shim, COTE Korean Steakhouse
Carlos Swepson, BLVD Bistro
Scott Tacinelli, Don Angie
Joe Torres, Madre
Ming Tsai, MingsBings
Heidi Turzyn, Beaupierre Wines & Spirits
Gary Vaynerchuk
Jonathan Waxman, Barbuto
Herb Wilson, Penn Club
Melba Wilson, Melba's Restaurant
Chris Young
Geoffrey Zakarian
List in formation as of 4/4; subject to change
View photos from last year's event on Facebook.
---
Thank You to Our Sponsors