Cey Adams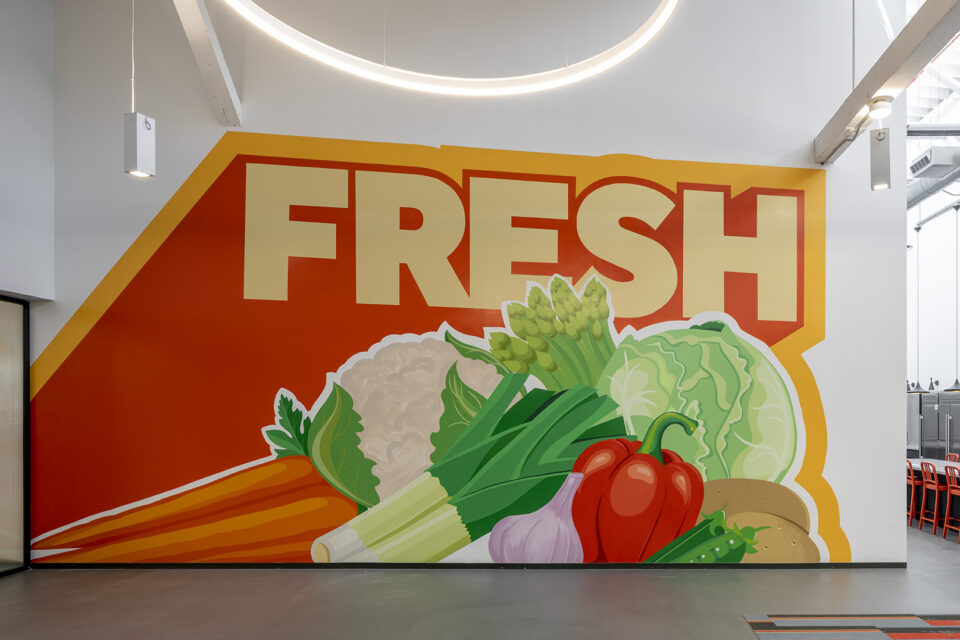 Cey Adams is a native New Yorker who emerged from the 1980s downtown graffiti movement to exhibit alongside Jean-Michel Basquiat and Keith Haring. He worked as the Creative Director of Def Jam Recordings and his art has been exhibited or celebrated at MoMA, the Brooklyn Museum and many other art institutions across America.
Cey Adams (b. 1962)
Fresh Produce, 2022
Latex and acrylic paint.
Size: 38'–6″ x 20'–6″
Part of the City Harvest Art Initiative
This is a tough time in New York. It reminds me of the 70s and the 80s. For all of the wealth, it seems like we have a lot of the challenges of the old days. The least we can do is feed people.

Fresh produce is pretty much a basic human right. I remember as a kid growing up in New York going to bodegas and seeing what was passing for fresh. And then I moved to California and saw what was there; the different colors of peppers and different kinds of oranges. The idea of fresh food had been really foreign to me.

So I had this gigantic wall. I thought, "What message do I want to convey?" The answer: "Fresh fruit and vegetables." And the word "fresh" is also an homage to the hip hop generation. In the 80s, it was all about, "fresh." So it was a play on words.

It reminds me of the old days when we used to do [graffiti] blockbusters—"top-to-bottoms" on the subway—even though, at City Harvest, I did not use any spray paint. It still has that feel.

Beautiful colors make people feel good. And that's the message: I want people to feel uplifted. I knew those bright orange carrots would be beautiful; the green lettuce, the peas, that purple garlic. I wanted something that was overwhelmingly beautiful to make people stop and take notice. I also thought it might be a place where people will take a lot of photographs.
ceyadams.com
Instagram: @ceyadams