hektad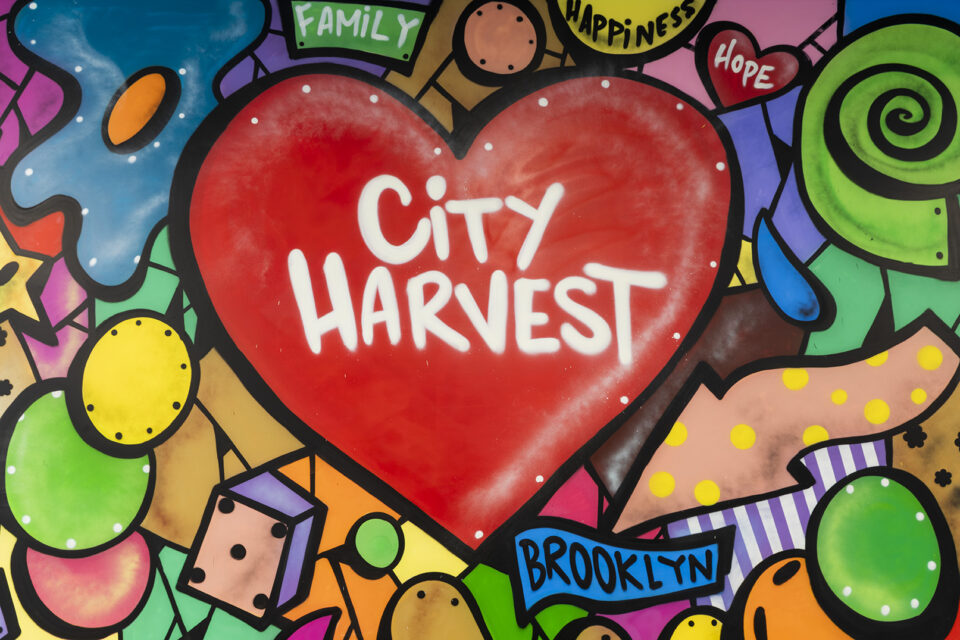 Bronx-raised graffiti artist Hektad began tagging the cityscape in 1981 when he was 12. He attended Manhattan's High School of Art and Design when it was a hotbed of the underground art scene. His work can be found throughout the city and has been exhibited at various shows, galleries and outdoor spaces, including the Mural Project at the revitalized World Trade Center.
hektad (b. 1969)
for the love of city harvest, 2022
Acrylic spray paint.
Size: 12'–0″ x 32'–6″
Part of the City Harvest Art Initiative
I pinch myself. I have gotten arrested, chased, shot at . . . For doing graffiti, something I love to do. And now I'm getting asked to go all over the world and getting paid. A long time ago, I said, "It isn't my time. But my time will come." I feel like my time has come.

I grew up in the projects in the Bronx. We would wait on line at the community center to get beans and blocks of cheese. I remember where I came from. And for City Harvest to be here and to help people who are less fortunate—it's awesome.

I had done the tour of the facility and I knew the importance of what City Harvest does for New York City. I stared at the wall and I immediately knew what I was going to do. I don't sketch out anything on paper. It took twelve hours. I took the colors of the fruits and the vegetables and put them on the wall. I had about 150 spray cans.

For City Harvest, I wrote, "Never stop loving," among other things, so that people will relate to that. I want them to take the colors and the love.

I have become known as the heart guy. I have gravitated toward that for many reasons. I want there to be more compassion for other people and more love. I have been doing the heart since back in the 90s.

The City Harvest heart? It's cool. Anything that has to do with hearts, I love.
hektadofficial.com
Instagram: @hektad.official