Natasha May Platt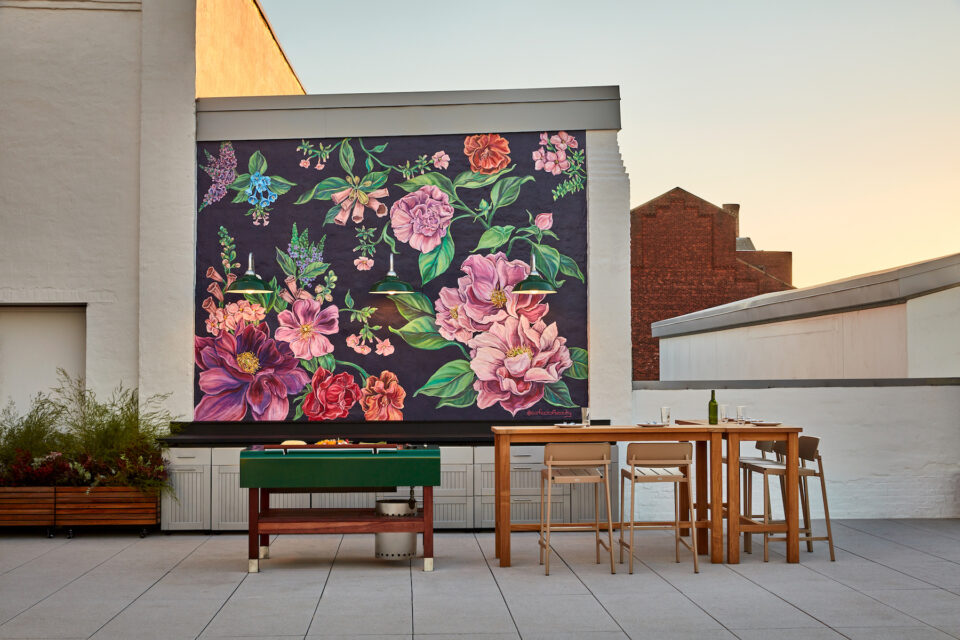 Natasha May Platt is a Brooklyn mural artist originally from Delaware. She studied philosophy and religion at Harvard and then worked in Kolkata, India, for textile and embroidery fashion designer Sabyasachi. She has painted murals for numerous non-profits, NYC stores and eateries as well as companies such as Google and Netflix.
Natasha May Platt (b. 1987)
Wildflowers to Dream With, 2022
Latex paint.
Size: 9'–6″ x 13'–0″
Part of the City Harvest Art Initiative
There is a saying, "Nature never hurries and it always gets it done." I am inspired by nature to bring its fluid feminine energy into rigid urban spaces. My work is all about growth and things developing into other things. The plants that I paint are connecting to each other. And that's how I see life.

For this piece, I was inspired by wild flowers mostly local to New York (bluebells, violet wood sorrel, blue vervain, milkweed, winged loosestrife and both peonies and tea roses, which are not native). The way I think of my art is that it is my actual life force energy. It's very exhausting to paint a mural. This one took me six days of working ten hours a day.

My murals are influenced by textile design. After college, I went to India to work for Sabyasachi Mukherjee, an influential fashion designer in Kolkota. When I returned to the US, I moved to Bushwick, Brooklyn. I was working in a stressful job in fashion and I would come out of the subway and I would see murals in my neighborhood. That art kept me going. It took me four years to think, "Maybe I could paint a mural."

I was a seed. I was nourished by those murals. It's a natural extension—enough inspiration, enough sun and enough rain and there's a natural progression. Brooklyn is what inspired me to be an artist. It gave me resources and opportunities. And painting for City Harvest is my way of doing my part for the city that inspired me.
natashamayplatt.com
Instagram: @surfaceofbeauty