Sui Park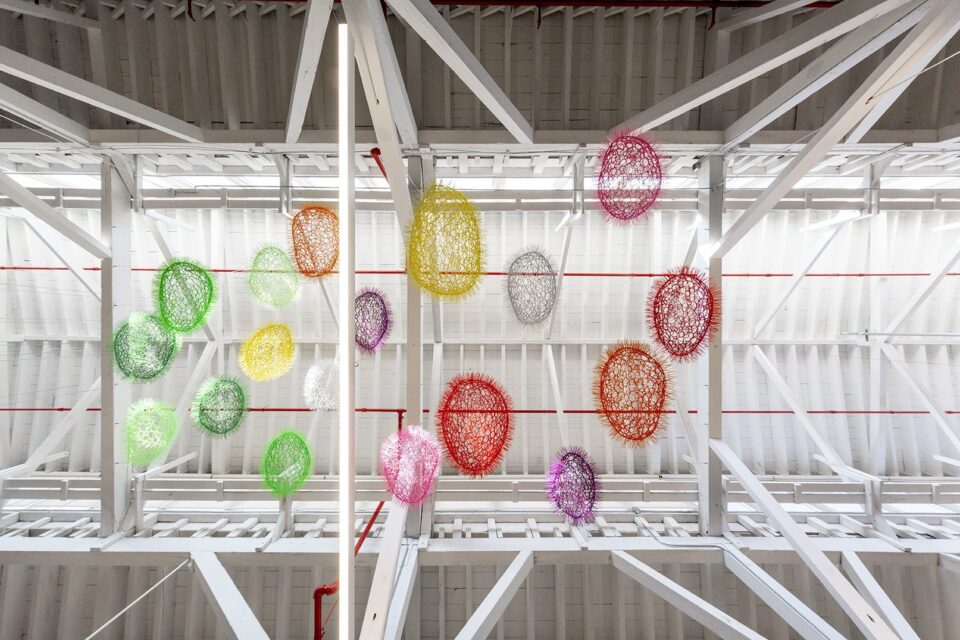 Sui Park is a New York-based artist born in Seoul, Korea. Her work involves creating 3-dimensional flexible organic forms. Park has had several solo shows and public art commissions among 130-plus international exhibitions. Park's education includes an MDes in Interior Architecture at Rhode Island School of Design and a BFA in Environmental Design at Maryland Institute College of Art.
Sui Park (b. 1977)
Pompom at City Harvest, 2022
Hand-dyed cable ties.
Size: 38'–0″ x 14'–0″
Part of the City Harvest Art Initiative
When I walked through the new City Harvest building, I thought of seeds because I believe that City Harvest will bear fruit with this center and contribute to the neighborhood.

I chose the title for my piece, "Pom Pom," because pom poms are used to cheer on people during games. I want to give a good vibe to the people who are working under my work and for those who look at it to get joy.

Growing up, I drew a lot as a little girl. I wanted to show people something beautiful. Later, when I was in school in the U.S., I studied interior architecture. And so I looked at the space for City Harvest like an interior architect. The space is so big and so spectacular. And when I saw the truss system where my work would be, I was hooked.

I use typical plastic cable ties. I have been interested in cable ties because they are one-time use but through my work and my hands they get a long life. And they are really artificial and yet when I shape them, they create organic forms. So, it's irony. I hand dye them to get the right colors to my theme.

Each cable tie has a different length so they create different patterns. And each pattern is like an architectural model. That makes me think, together, they look like our community—they are like cells and they connect to each other to create a perfect shape.
suipark.com
Instagram: @park.sui