Sarah E. Brook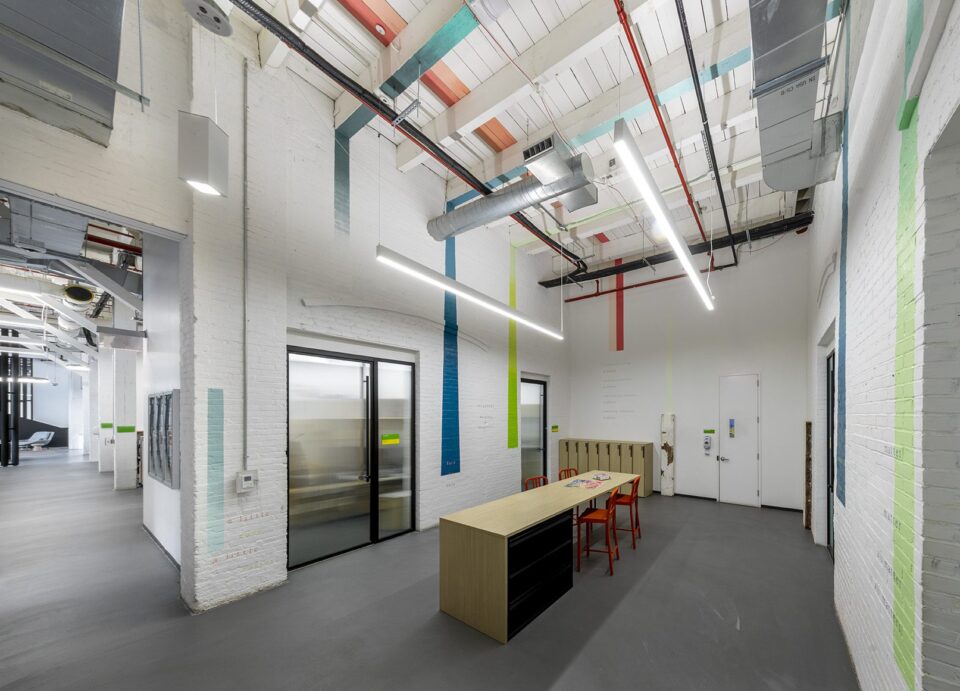 Sarah E. Brook is a Brooklyn-based sculptor and installation artist from the Nevada high desert. They have had numerous solo exhibitions and public art sculptures that have appeared throughout New York City. Their work was featured at the 2019 BRIC Biennial. Brook is also a psychotherapist.
Sarah E. Brook (b. 1981)
Reach, Source, Level, 2022
Paint, salvaged lumber from onsite.
Size: Room 19'–2″ x 25'–6″
Part of the City Harvest Art Initiative
I grew up in Nevada, the child of a geologist whose spatial awareness was all desert, topography and the sun. In my art, I try to create spaciousness.

When I came to New York, I was swept up into activism and social work but was unhappy not doing art. I crawled my way back. I also work as a psychotherapist, mostly for the queer community. My work and my art had seemed distinct but the deeper I get, I see that they are similar: In both, I can pursue the creation of spaces for people to encounter themselves in new ways.

I am a fairly introverted person. I think that comes out in my art. I create moments that allow people to choose whether or not to engage. When I saw the space in the City Harvest building, I was excited to be able to create an environment that you could enter into and have an experience in.

When you go in there, the painting draws your eye up to see that you are held in this structure. The feeling holding is important—being immersed and held.

I combined paint, sculpture and language from my interviews with City Harvest employees and volunteers. I used pieces of wood salvaged from the renovation of the building. And I hand stenciled and hand brushed the words from my conversations.

I wanted words that would be nourishing and inspiring. I wanted to offer a space for people to be reminded of how miraculous it is what they pull off.
sarahebrook.com
Instagram: @sarahebrookart