Adrian Brandon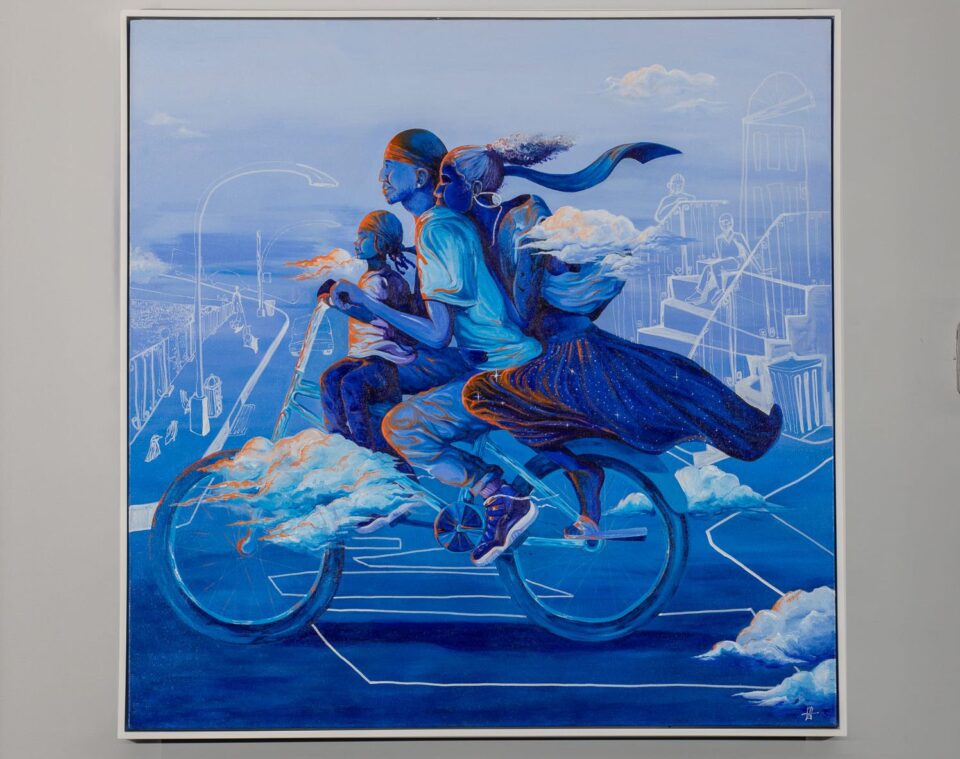 Adrian Brandon is a West Coast-raised artist now based in Brooklyn, NY. He works in various media, including digital, paint and ink. Brandon's art, which focuses on broadening the narrative of the Black experience, took on particular urgency and gained national attention during the emergence of the Black Lives Matter movement.
Adrian Brandon (b. 1993)
Hold Tight, 2022
Acrylic, ink, and graphite on canvas.
Size: 48″ x 48″
Part of the City Harvest Art Initiative
The title of this piece is "Hold tight."  I saw this scene of a man and a girl on a bike in my neighborhood in Bed Stuy. It's beautiful to see that form of happiness and joy and independence in black and brown communities. The painting depicts a family, all on one bicycle.  

Hopefully some kid or family that has done something similar will see this and they will feel seen. "Hold tight" taps into the intimacy of family. And with life being so rocky for young ones today, to hear "hold tight," it means reassurance. To let kids know, "I got you. We're going to be here for you."  

 For the City Harvest employees, I would love for them to be reminded of the importance of what they are doing every day: providing peace and security. I hope that this piece does the same. 

 I am from Seattle, Washington. What I love about New York is that it is a home to so many different kinds of people. It is beautiful the way it receives people.  Even though I grew up on the other side of country, I feel that.  

Early on, I learned that art is a great way to show your love for a space and for people. As a black artist, I try to create work that centers on pride, peace and protest and to focus on the issues that are affecting the community. . . but also to address how "issues" are not our whole story.