Jessica Dalrymple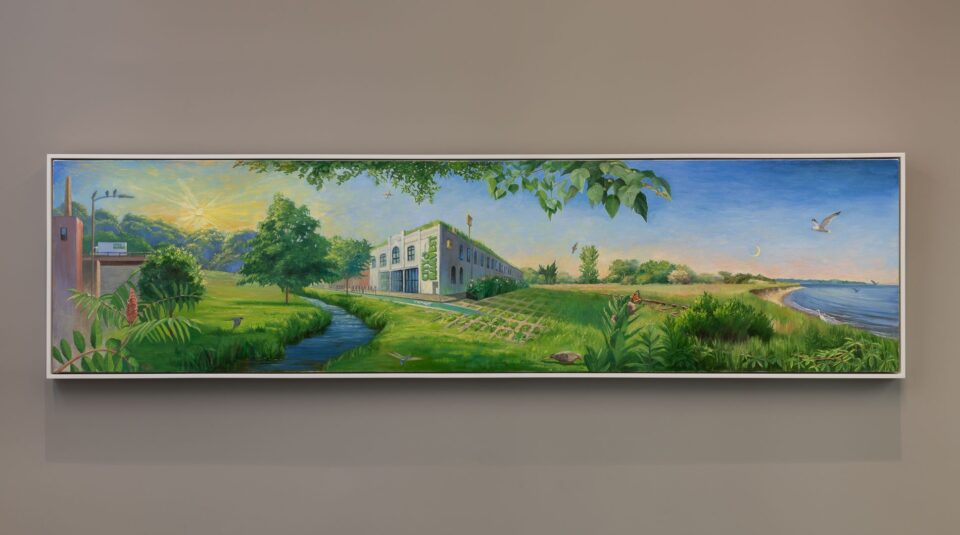 Jessica Dalrymple studied Fine Art at Hamilton College and trained as a painter at The Art Students League of New York. She has exhibited with many national and regional juried shows. She also holds a certificate in horticulture from the Brooklyn Botanic Garden and is a licensed NYC tree pruner.
Jessica Dalrymple (b. 1972)
Urbanscape; City Harvest (Past, Present, Future), 2022
Oil on canvas.
Size: 24″ x 96″
Part of the City Harvest Art Initiative
When I began as a professional artist, I was obsessed with going into nature and depicting it, leaving the city and sitting in forests. But then I wanted to develop my roots in Brooklyn and I became interested in bringing nature to the city.  

I am an urban gardener and an environmentalist. I see many connections between rescuing green spaces and rescuing food. They share the same values: the power of community, the harvest, and sharing resources.  

I set the painting during sunrise because I felt that it parallels a new beginning, a fresh chapter. When you make a big change, there is a lot of new growth. I wanted the painting to reflect that by being lush with nature. 

The wide panoramic perspective illustrates the landscape of what was, is and what could be. I created layers of the pre-settler environment from the 1600s, present fauna and also what I imagine the future could be.   

After deciding to set the painting at sunrise, I got up at 4:30 in my home in Brooklyn, and went for walks in Sunset Park, Bush Terminal Piers park, and other areas like Prospect Park and Great Kills Park in Staten Island. I spent many hours over several weeks, observing the dramatic light.  

I'm honored and excited about enhancing the experience of people who work at City Harvest by reminding the viewer that there was once a creek that ran along second avenue and giving them a sense of the landscape underneath this concrete.