Resources for Our Agency Partners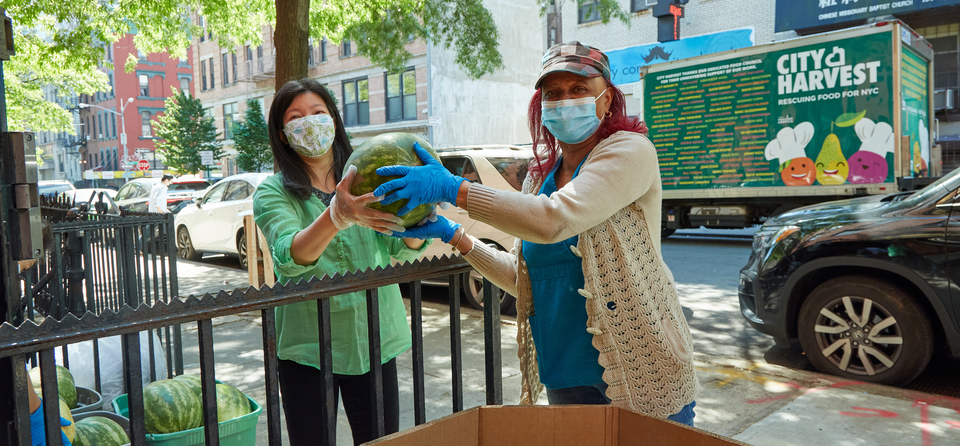 At City Harvest, we partner with a network of more than 400 food pantries and soup kitchens across the five boroughs to bring nutritious food to our neighbors in need. To support our partners beyond the food we provide, our Network Capacity team is here to offer resources and support to help build the capacity of your agency, giving you the tools to best serve and meet the needs of our communities.
On this page, you'll find information on:
How to find other agencies in your area
Resources from previous trainings
Grants
Volunteer management
Requirements for becoming a City Harvest agency
---
Find Agencies Near You
Use our food map to find fellow agencies distributing food in your neighborhood.
---
Resources from Previous Trainings
The Network Capacity Team hosts free trainings for our agency network on a wide variety of capacity building topics including volunteer management, fundraising and marketing. Access our past and pre-recorded workshops and trainings.
---
Grants
Grants can be a great way to secure funding to help support and grow your operations. City Harvest is constantly updating our list of third-party grant opportunities for local emergency food agencies. Check out the list.
---
Volunteer Management Resources
---
Requirements for Becoming a City Harvest Agency
Due to the high levels of need within our existing network, we are not accepting new agency partners at this time. If you would like to be added to the waiting list for future consideration, email [email protected].
The following are requirements for registering as an agency with City Harvest:
Must have an established Food Pantry or Soup Kitchen (with 501c3) for at least one year and track those numbers in FeedNYC.org
Must have funding from at least one other major funder (such as the Food Bank for NYC, United Way, and/or HRA)
Must serve at least 2,000 people each month
Should be able to accept 1+ pallet of food per each delivery
Must have adequate refrigerator and freezer storage to store large quantities of perishables
Must have clean and adequate dry food storage space
If you have not reached out to United Way or Food Bank for New York City, please do, as they will be very helpful in this new journey your team is embarking on. Additionally, you can find free resources on FeedNYC.org.
---
If you have questions or need to contact us, call the Program Operations Hotline at 646.412.0740 or email [email protected].