The 2022 Gala: Red Supper Club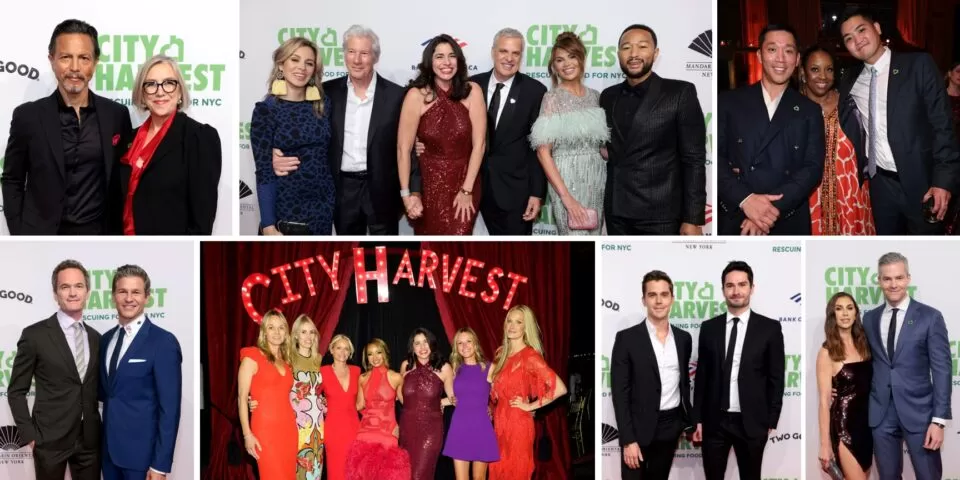 ---
City Harvest Presents The 2022 Gala: Red Supper Club on April 26 brought together celebrities, influencers, and NYC's high profile individuals to honor Sandra and Eric Ripert, who have tirelessly championed City Harvest's work for more than 25 years. It was a record-breaking evening, raising enough to provide more than 12 million meals for New Yorkers in need.
Attendees included Chrissy Teigen, John Legend, Antoni Porowski, Slick Rick, Richard Gere, Ted Allen, Desus Nice, and Gail Simmons. Chef supporters included Geoffrey Zakarian, Tom Colicchio, Vikas Khanna, Gabriel Kreuther, Simon Kim, Marc Murphy, Emma Bengtsson, Melissa King, Melba Wilson, Cedric Vongerichten, Laurent Tourondel, Eunji Lee, and Alfred Portale.
View photos from the incredible evening on Facebook.
Watch a Recap of City Harvest Presents the 2022 Gala: Red Supper Club
For more information, please contact Kathy Holding, Director of Special Events and Volunteer Programs at [email protected]. For information about Sponsorships, please contact Tessa Lechleider, Coordinator of Business Partnerships at [email protected].
The 2022 Gala: Red Supper Club would not be possible without the generous support of our event sponsors: Two Good Yogurt, Bank of America, Wafra Inc., Salesforce, I. Halper Paper & Supplies, Mandarin Oriental, New York, and Tequila Casa Dragones.
Event Produced By JWP
Event Design and Creative Direction By Colin Cowie Lifestyle
Entertainment By On The Move Entertainment
Invite Designed By Mario Avila Design
Thank You to Our Host
Benjamin Bratt
Thank You to Our Co-Chairs
Colin Cowie and Danny Peuscovich
Lise and Michael Evans
Alejandra and Richard Gere
Carola and Robert Jain
Christine and Richard Mack
Shirley Madhere-Weil and Michael Weil
Kristen and Patrick McMahon
Heather Crosby Mnuchin
Chrissy Teigen and John Legend
Thank You to Our Host Committee
Marjorie and Steven Adams
Ted Allen
José Andrés
Michael Anthony
Ingrid V. Arneberg
Donatella Arpaia
Christophe Bellanca
Emma Bengtsson
Ron Ben-Israel
Eitan Bernath
Mike Birbiglia
Alida Boer and Jason Carroll
Matt Bomer
Scott R. Brakebill
Christie Brinkley
Anne Burrell
Mario Cantone
Andrew Carmellini
Dan Churchill
Andy Cohen
Jake Cohen
Tom Colicchio
Kimberly Cooper and Orin Wilf
Dana Cowin
Billy Crudup
Alan Cumming
Ariane Daguin
Kristin Davis
Rocco DiSpirito
Lili and Wilson Ervin
Essential by Christophe
Elizabeth Falkner
Victoria and Josh Feltman
Marc Forgione
Markus Glocker
Kristen and Marc Glosserman
Whoopi Goldberg
Camille and Cody Goldstein
Kris and Marc Granetz
Alex Guarnaschelli
Tara Halper and Jaret Keller
Dayna Hardin and Kenneth Bernardo
Neil Patrick Harris and David Burtka
Eric Holder
Sharon H. Jacquet
Rita Jammet
Austin Johnson
Judy Joo
Alison and Jim Kallman
Herb Karlitz
Matt Katakis
Thomas Keller
Clinton Kelly
Nayun Shin, Simon Kim & COTE
Jessica and Bill Koenigsberg
Grace Koo and Kerry Heffernan
Gabriel Kreuther
Talib Kweli
Emeril Lagasse
Ann and Denis Leary
Fran Lebowitz
Anita Lo
Justin Long
Kerrie D. MacPherson and David A. Gatchell
Angie Mar
Debi Mazar and Gabriele Corcos
Roni Mazumdar
Audra McDonald
Ed McFarland
Wendy and Bill Mills
Nadine A. Mirchandani and Stuart Huberman
Marc Murphy
Brooks Nader
Newlight Partners LP
Desus Nice and The Kid Mero
Tracy Nieporent
Chintan Pandya
Becca Parrish
Francois Payard
Valerie and Jeffrey Peltier
Dascha Polanco
Antoni Porowski
Alfred Portale
Billy Porter
Zac Posen
Zachary Quinto
Andrew Rannells
Basu Ratnam
Zofia Borucka Reno and Jean Reno
Slick Rick
Angie Rito and Scott Tacinelli
Jimmy Rizvi
Stephanie Goldman Rosen and Steven Rosen
Marcus Samuelsson
Chris Santos
Susan Sarandon
Erica and Eric Schwartz
Emilia and Ryan Serhant
David Shim
Gail Simmons
Aldo Sohm
Ivy Stark
Martha Stewart
Bill Telepan
Hong Thaimee
Kerone Vatel, Capital One
Jean-Georges Vongerichten
Ochi and Cedric Vongerichten
Wafra Inc.
Sam Waterston
Melba Wilson
Katie Workman and Gary Freilich
Margaret and Geoffrey Zakarian
Andrew Zimmern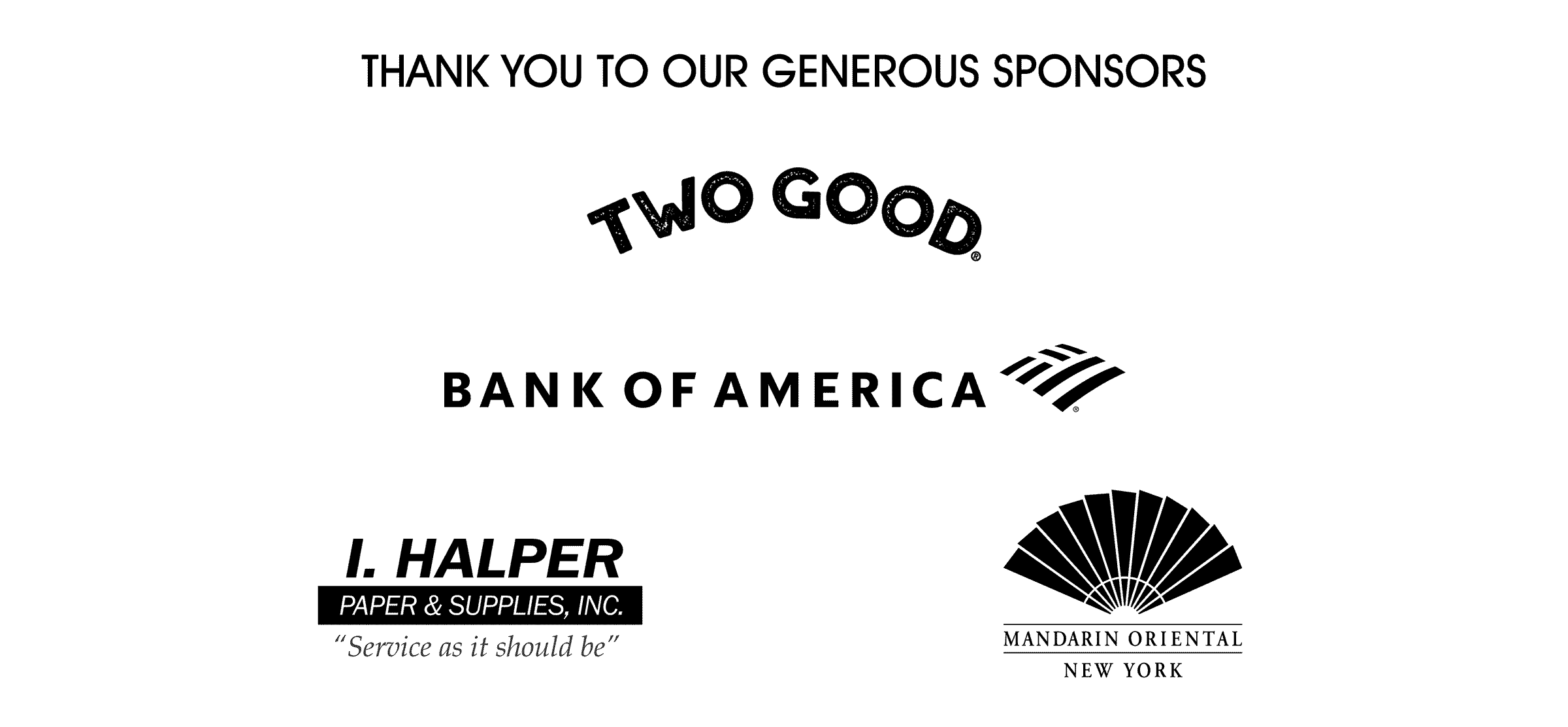 ---
"New York's Most Glamorous Dinner Party."