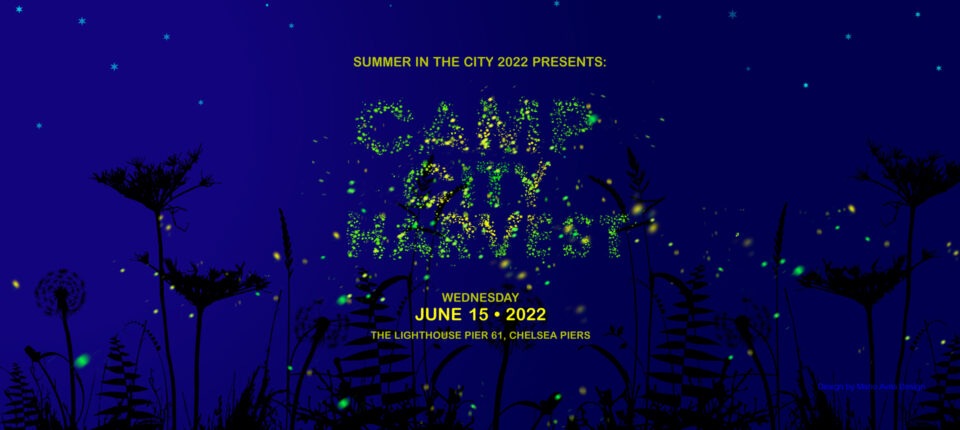 Wednesday, June 15, 2022
The Lighthouse, Pier 61, Chelsea Piers, New York City
Purchase tickets Make a Contribution
Camp City Harvest will transport you back to your summer home away from home, as you revisit the fun of summer camp! From s'mores to bug juice, pack your camp spirit, and get ready to taste delicious bites and refreshing drinks from some of NYC's hottest restaurants while experiencing Camp City Harvest! 
Kick off the summer at City Harvest's 18th annual Summer in the City tasting event with some of New York City's hottest chefs, restaurants and mixologists. Past participants include Mercado Little Spain, Adda, Aquavit, and COTE, among many others.
This premier waterfront event will be attended by young philanthropists and tastemakers, and will feature music from one of New York City's top DJs. Interactive activities and exciting performances will keep guests moving all evening! The last Summer in the City event raised enough to help provide more than 1.5 million meals for New Yorkers in need.
Co-Chairs
E. Desiree Asher · Josh Blaine · Greg Buhay · Taryn and Guss Firestein
Lauren Marra · Whitney and Anthony Rallo · Dana M. Zukofsky
Host Committee
Rachel Adams and David Close
Nancy and Richard Axilrod
Shrujal Baxi and Niketh Velamoor
Emma Bengtsson
Eitan Bernath
Brookfield Properties
Justin Chan
Jamie and David Chubak
Samah Dada
Kristin and Michael de Guzmán
Scott Glassberg
Camille and Cody Goldstein
Christine Hikawa and David Windreich
Jeremy Jacobowitz
Jane & Frances Stein Foundation
Pamela and Andrew Kaufmann
Simon Kim
Sarah Labowsky and Matt Jackson
Robert Levine
Roni Mazumdar
Ed McFarland
Brooks Nader
Sarah Jane Nader
Mary Holland Nader
Chintan Pandya
Jimmy Rizvi
Erica and Eric Schwartz
Ally Shapiro
David Shim
Ivy Stark
Andrew Teig
Hong Thaimee
Ochi and Cedric Vongerichten
Yardline
Libby Kislak Yellin and Jeffrey Yellin
Zegar Family Foundation
Restaurants, Chefs, & Mixologists

Guests will be required to provide proof of full COVID-19 vaccination and corresponding government ID prior to entry. 
For Tickets & Packages, please contact:
Rachel Haspel, Senior Manager, Special Events 
[email protected] or call 646.412.0648
For Sponsorship opportunities, please contact:
Gabrielle Mizrahi, Senior Manager, Business Partnerships
[email protected] or call 656.412.0717
Watch a Recap of Summer in the City 2019