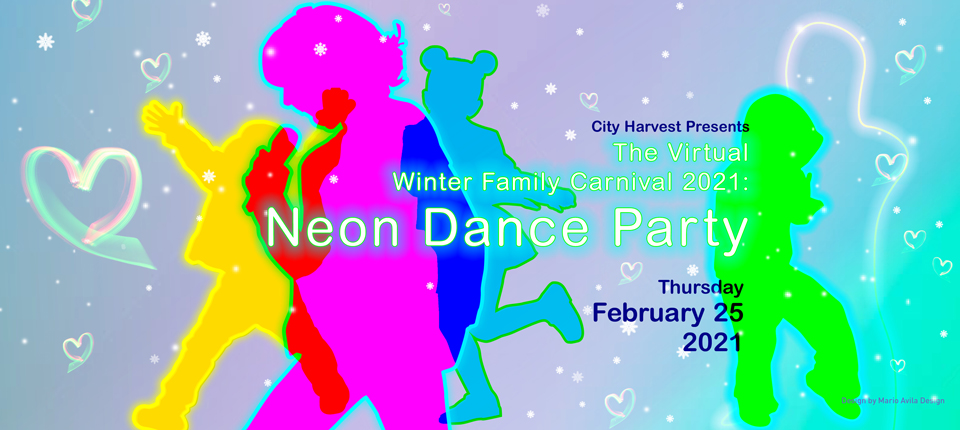 Thursday, February 25, 2021
Get ready to virtually party and dance away with your family at City Harvest Presents The Virtual Winter Family Carnival 2021: Neon Dance Party, hosted by Madeline and Anna Zakarian!
This electric, stay-at-home event will support City Harvest's work feeding the 1 in 3 children and their families in New York City who are facing food insecurity due to the COVID-19 pandemic.
The fun begins when your child receives their very own Party Box, delivered to your doorstep, filled with everything you need to bring the party home. Guests will also gain access to our interactive event site, which will be loaded with immersive entertainment for the entire family to enjoy together!
Party Box and Entertainment Highlights:
One of a kind craft kit with instructional video and materials provided by New York City favorite, The Craft Studio! Featured craft projects include: make your own glow-in-the-dark slime, white chocolate lollipop decorating, and design your own echo sing-along microphone!
Make your own kid friendly, delectable Neon Cooler punch kit, served in a festive juice pouch, with out of this world glow garnishes, and silly straws, and instructional video led by Food Council Member Cody Goldstein of Muddling Memories.
Entertainment partner On The Move's talented DJs and performers will keep your Virtual Neon Dance Party going all night long! Learn the latest moves to your favorite TikTok-style dances, belt it out with specially-curated beatboxing performances, karaoke, and sing-along songs, enjoy electrifying LED and UV blacklight dance performances, and mesmerizing glow magic performances!
Thank You to Our Winter Family Carnival Co-Chairs
Nancy and Josh Blaine
Jodisue Rosen and Scott Feldman
Victoria and Josh Feltman
Helena Glazer
Kristen and Marc Glosserman
Olga and Matt Katakis
Ed McFarland
Eden Grinshpan and Ido Nivron
Emilia and Ryan Serhant
Katie Workman
Meghan and Michael Young
Margaret and Geoffrey Zakarian
*List in formation
---
For tickets, packages, and additional opportunities, please contact Rachel Haspel, Special Events Manager, at [email protected] or call 646.412.0648. For sponsorship opportunities, please contact Rebecca Fontes, Director of Business Partnerships, at [email protected] or call 646.412.0641.
All proceeds will benefit, City Harvest, New York's first and largest food rescue organization, helping to feed millions of New Yorkers who struggle to put meals on their tables. City Harvest is stepping up to rescue and deliver more food during the COVID-19 crisis to meet the increased need in our city. This year, we will rescue 118 million pounds of fresh, nutritious food and deliver it free of charge to more than 400 food pantries, soup kitchens, community partners and our own Mobile Markets across the five boroughs.