The Virtual Winter Family Carnival 2022: Around The World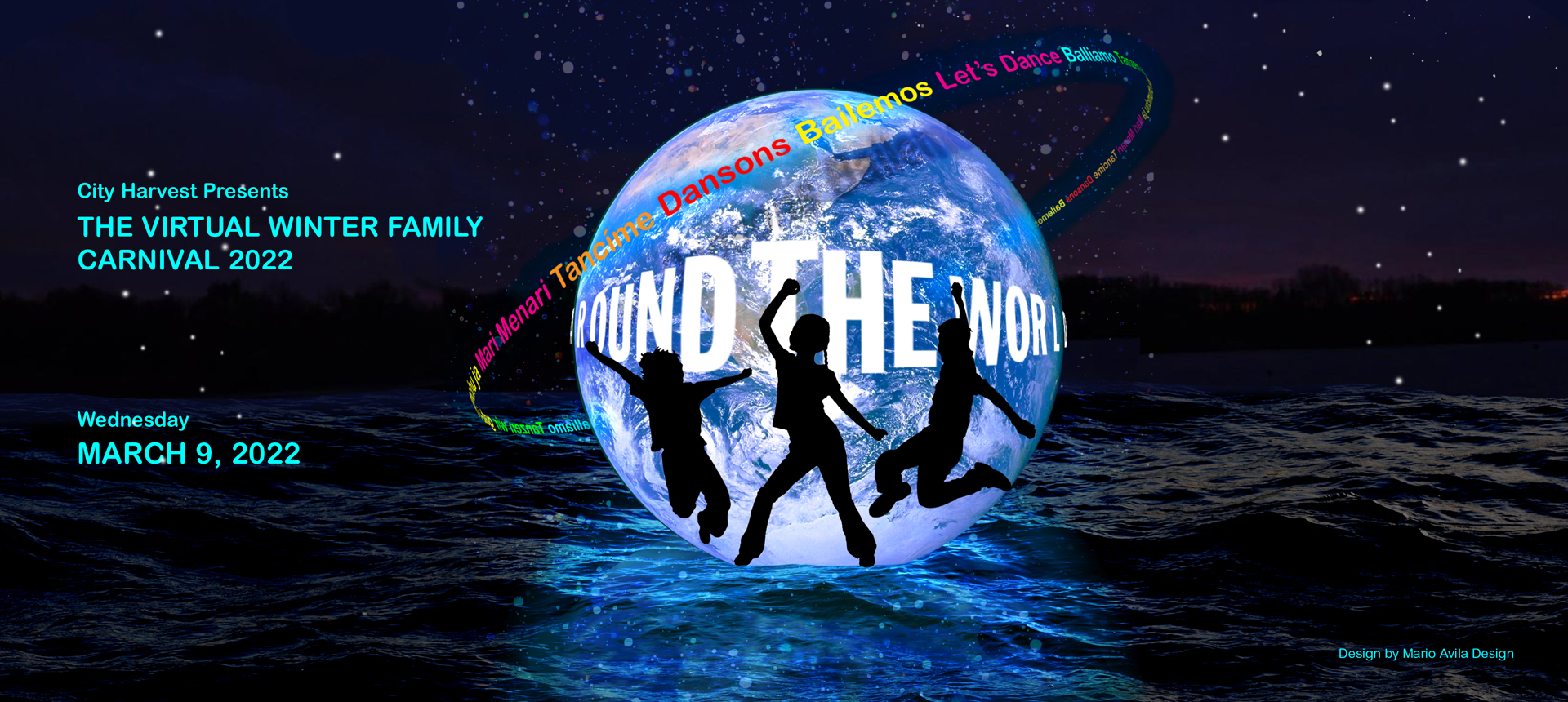 We are thrilled to share that with your support, City Harvest Presents The Virtual Winter Family Carnival 2022: Around The World raised enough to help feed 154,000 NYC children and their families for a day and sent 230 Party Boxes to children City Harvest serves through Brighter Bites.
Participants traveled the world from the comfort of their homes during this dynamic stay-at-home event while supporting City Harvest's work to help feed the 1-in-4 NYC children and their families who are experiencing food insecurity.
The fun began with every child receiving their very own Party Box, delivered to their doorstep, filled with everything to get the party started. Guests also gained access to our interactive Winter Family Carnival website, loaded with immersive entertainment for the entire family to enjoy together!
Party Box and Entertainment Highlights:
One-of-a-kind craft kit with how-to videos and all materials provided by New York City favorite, The Craft Studio!
Make your own kid-friendly, delectable hot chocolate, with a cool kit and how-to video from master mixologist and City Harvest Food Council Member Cody Goldstein of Muddling Memories.
Mind-blowing dance and entertainment videos featuring our entertainment partner On The Move's talented DJs and performers!
For questions about the event, please contact Rachel Haspel, Senior Manager, Special Events, at [email protected] or call 646.412.0648
Thank You to Our Host Committee
Gideon Burtka-Harris
Harper Burtka-Harris
Quani Fields
Logan Guleff
Jaden Spector
Dara Yu
Anna Zakarian
Madeline Zakarian
Thank You to Our Co-Chairs
Eitan Bernath
Nancy and Josh Blaine
Terrance Brennan
Anne Burrell
Arielle Charnas
Jamie and David Chubak
Lena Ciardullo
Chelsea Clinton
Dana Cowin
Ariane Daguin
Victoria and Josh Feltman
Neil Patrick Harris and David Burtka
Caroline Jacobs and Ari Horowitz
Olga and Matt Katakis
Molly and Matthew Knauer
Kerrie D. MacPherson and David A. Gatchell
Amanda and Alex Morcos
Camille Parson and Cody Goldstein
Sarah and Daniel Rueven
Chris Santos
Judith Scott-Clayton and Kyle Clayton
Emilia and Ryan Serhant
Pam Spector
Hong Thaimee
Ochi and Cedric Vongerichten
Katie Workman
Meghan and Michael Young
Margaret and Geoffrey Zakarian