Volunteer FAQ
Q: I want to help City Harvest. How do I get started?
A: All new individual volunteers must complete a Volunteer Orientation. Additional training after the orientation is required for Nutrition Education volunteer opportunities. Once you have attended an orientation, you will receive an email inviting you to complete your profile. It will also provide instructions for navigating our Opportunity Calendars and registering for projects.
Q: Why can't I see any upcoming Volunteer Orientations?
A: Our orientations are in high demand. Volunteers will tend to cancel in the days leading up to the orientation. Keep your eyes on the Orientation Calendar as slots become available. If you have registered and know that you can't attend, kindly make room for someone else by logging in to your portal and canceling your shift!
Q: What are the age requirements for volunteering with City Harvest?
A: Greenmarket Rescues are for volunteers age 14 and up. Mobile Markets and Office Projects are for volunteers age 16 and up. Food Show Rescues and Nutrition Education Projects are for volunteers age 18 and up. Special Events are for volunteers age 21 and up. Regardless of age, all new volunteers must attend a Volunteer Orientation. For minors, a parent or guardian will need to sign the release and waiver portion of the application. We also require that minors be accompanied by an adult over the age of 21 except for participation in Office Projects. Children under 16 can support City Harvest's work by coordinating a food drive. To learn about other youth volunteer opportunities we recommend our partner newyorkcares.org.
Q: I volunteered with my organization and am interested in other volunteer projects. Do I need to attend an orientation?
A: Thank you for volunteering with us! Since you already participated with your group, you are eligible to sign up for any of our general volunteer projects such as Greenmarket rescues, Mobile Markets and Repacks. After your group activity you can sign up for upcoming projects using the Volunteer Portal account you created. Additional training is required for Nutrition Education activities.
Q: I work Monday – Friday 9-5. Do you have any opportunities that fit my schedule?
A: Yes, we have a number of activities for you! Mobile Markets, Greenmarket rescues and cooking demonstrations are examples of projects that take place on Saturdays and Sundays. Schedules vary depending on the season. Click here to see what is available on weekends.
Q: How do I travel to the volunteer site?
A: Sites vary, but all are accessible via mass transit. Use Google maps to plan your trip the night before, and check the MTA website for any service changes or delays the day you'll be volunteering. We encourage you to plan your travel in advance, especially if you are unfamiliar with the area.
Q. Is timing flexible?
A: Most volunteer opportunities last 2-3 hours, and we ask that you arrive on time and stay until the activity is over and you are dismissed by City Harvest staff.
Q: What should I wear and bring with me to a volunteer event?
A: Since most volunteers are working with food, please wear comfortable, closed-toe athletic shoes (no flip flops, ballet flats or sandals). Dress for the weather, tie long hair back and avoid loose jewelry. For office-based projects, business casual is acceptable. Storage is minimal at our volunteer sites and we ask that you bring few personal items with you.
Q: Is lifting involved at food rescues, repacks or Mobile Markets?
A: We suggest that all volunteers feel comfortable lifting at least 15 pounds for repacks and Mobile Markets, and at least 30 pounds for food rescues.
Q: The forecast predicts rain; will the volunteer event be cancelled?
A: Grab your umbrella – all of our volunteer events happen rain, snow, or shine. In the rare event that a project is cancelled due to inclement weather, volunteers will be notified by City Harvest staff or your volunteer leader.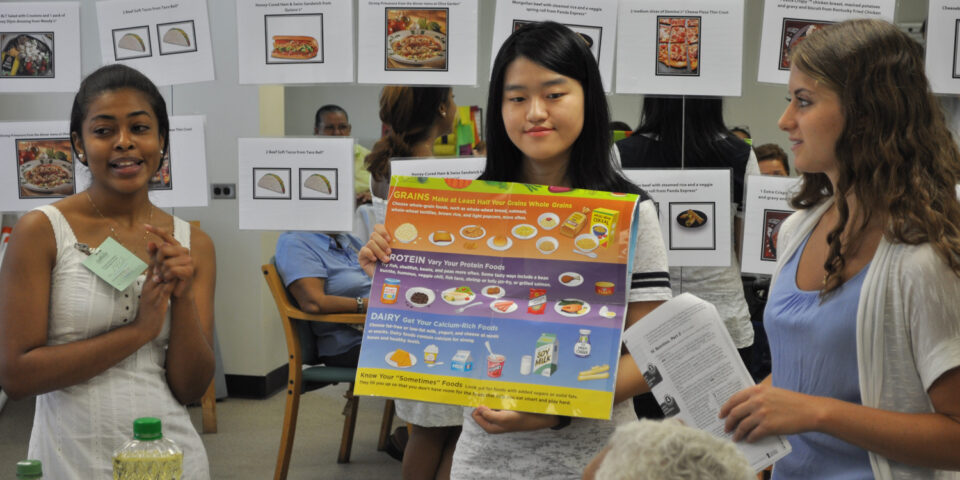 Q: Do I need a culinary or nutrition background to volunteer with the Nutrition Education department?
A: Volunteers of all backgrounds are welcome for our Nutrition Education programs. Volunteers can serve as class managers and assistants, or lend a helping hand to our volunteer chefs and nutritionists at cooking demonstrations and nutrition courses. In addition, we'll provide a variety of skill-building trainings so that you are prepared.
Q: Are there one-time Nutrition Education projects available?
A: Yes, one-time Nutrition Education projects include leading healthy cooking demonstrations, budget shopping tours and assisting with special events.
Q. Do volunteers have to prepare anything in advance of their Nutrition Education volunteer project?
A: We make it easy! For each project, you will be part of a team including a City Harvest staff manager and one or two other volunteers. The staff manager will email a detailed agenda, lesson plan, talking points, and a recipe for volunteers to review in advance. It's important for volunteers to communicate any questions you have about the recipes and project logistics. Having a plan and arriving on time to each event will allow you to prepare and set up properly.
Q. How long are the Nutrition Education courses and when do they meet?
A: Each Nutrition Education course meets for three hours (including set up time), once a week, for six to eight weeks. Courses are usually scheduled Monday through Friday, on the same day and at the same time each week. We ask that volunteers and participants attend all weeks.
Q. Where are Nutrition Education volunteer projects located?
A: Our programming is conducted at community-based organizations across all five boroughs.
Q: I have never taught in a classroom setting. Can I observe a Nutrition Education class before signing up to volunteer?
A: Yes. We encourage new volunteers to shadow a Nutrition Education course to get a feel for how a class runs. City Harvest also offers skill-building trainings for volunteers that focus on each of the different Nutrition Education activities.