Our executive team and senior staff are responsible for the day to day leadership of City Harvest.
Jilly Stephens, Chief Executive Officer
Since becoming Chief Executive Officer in 2006, Jilly has overseen City Harvest's efforts to meet the rising demand for emergency food while putting in place long-term initiatives to address the health and nutrition needs of low-income communities in New York City. Under Jilly's leadership, City Harvest established a Food Rescue Facility in Long Island City, Queens, a 45,000 square-foot warehouse that enabled the organization to double the amount of food rescued and delivered each year from 30 million in 2012 to 63 million pounds in 2019. Jilly joined City Harvest as Senior Director of Program Development in 2004, where she led the development and expansion of the organization's community programs, including Mobile Markets, nutrition education, and retail partnerships, which now collectively reach over 400,000 New Yorkers across the five boroughs each year. Prior to joining City Harvest, Jilly served as the Vice President of Program Operations at ORBIS International, an $80+ million nonprofit organization dedicated to the elimination of avoidable blindness through hands-on surgical training and education.
Gregory Boroff, Chief External Relations Officer
Gregory Boroff oversees our fundraising, capital campaign, volunteer services, marketing, communications, and special events initiatives. Gregory returned to City Harvest 17 years after having worked here earlier in his career. Over his 25+ year career working with nonprofits, Gregory has raised more than $800 million for organizations that include Friends of Hudson River Park, amfAR, Food Bank For New York City, and Gay Men's Health Crisis (GMHC). BizBash Magazine named Gregory one of the 66 most innovative people in the event industry. Gregory serves on the Boards of the Greater New York Chapter of the Association of Fundraising Professionals and EventFluence, and as a member of the Steering Committee for Allies in Action. He has previously served as Chair of AFP's Fundraising Day in New York, as a member of the BizBash Magazine Advisory Council, on the Board and as Program Dean of the CAE Career Enrichment Committee for the New York Society of Association Executives, and as a mentor for the Point Foundation and AFP-NYC. Gregory is a proud supporter of New Hope for Cambodian Children.
Karrien Francis, Chief Human Resources and Diversity Officer
Karrien Francis leads City Harvest's Human Resources department, guiding the organization's work to manage and develop our dedicated staff in support of our mission. She focuses on our culture, employee engagement, diversity, equity and inclusion, and performance management, among other initiatives. Prior to joining City Harvest, Karrien served as the Director of Talent and Organizational Performance for Northwell Health. She began her career at Long Island University, and has worked at Target as the Senior Executive Team Leader for the New York tristate area, and Director of HR at the Jewish Child Care Association. She received the Corporate & Social Responsibility Award for Diversity from City & State of NY in 2017.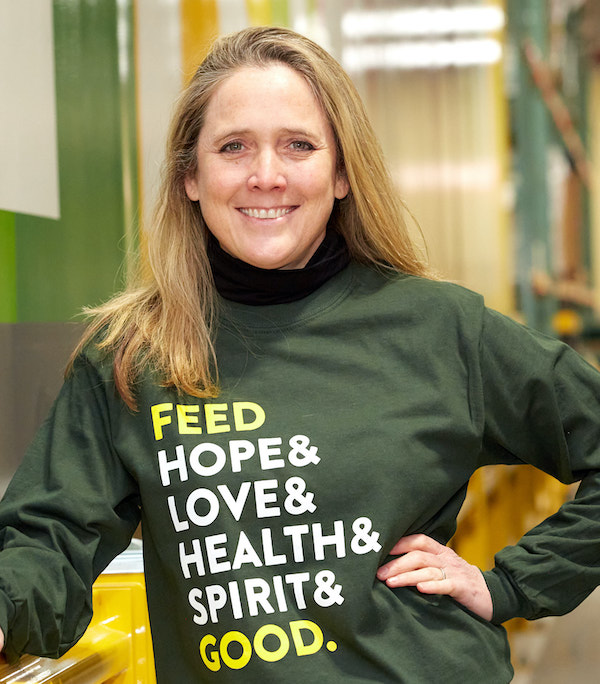 Jennifer McLean, Chief Operating Officer
Jennifer McLean oversees City Harvest's daily food rescue and delivery operations, community programming, and the our policy and advocacy outreach. Jen leads a team that sources millions of pounds of good food each year that would otherwise go to waste and delivers it, free of charge, to hundreds of partner community food programs, City Harvest's Mobile Markets®, and Community Partner Distributions across the five boroughs. Jen's team is also responsible for City Harvest's Disaster Feeding Response, active during times of crisis in New York City, including after 9/11, following Superstorm Sandy, during the partial government shutdown in 2019, and throughout the COVID-19 pandemic.
Jen joined City Harvest in 2000, and over the years, she has prioritized rescuing and delivering nutritious food, while increasing the amount of food City Harvest distributes annually, and guided the expansion of health-focused programming, including providing free nutrition education and culinary programming to thousands of New Yorkers across the city. She also created HarvestWorks, an opportunity for farmers to supply community food programs with locally grown produce. Jennifer previously worked at Estee Lauder's corporate office.
Renee Richardson, Chief Finance and Administration Officer
Renee Richardson oversees the Finance, IT, and Risk Management departments at City Harvest. Most recently she served as CFO and Treasurer of the Population Council. A native of Australia, Renee began her career as an Audit Manager for an accounting and consulting firm in Brisbane before moving to London where she worked for Railtrack PLC (now known as Network Rail). She held Controller and Director of Finance positions for the International Rescue Committee, working in the United States, Europe, Africa, and Asia before joining amFAR as their Controller. Renee brings a breadth of experience in accounting and reporting, budgeting and forecasting, enterprise risk management, systems implementation, and cross-functional collaboration to City Harvest.
Marilyn R Andzeski, CFM, PMP, Vice President of Facilities and Office Services
Marilyn Andzeski oversees City Harvest's real estate operations and support services. Prior to joining City Harvest, Marilyn oversaw real estate and construction for organizations with large, diverse portfolios such as Urban Pathways, New York Foundling, and New York and Columbia Universities. Marilyn's work has included development and forecasting for sustainable growth requiring strong contractual and budgetary applications and effective communication and interpersonal skills to maximize resources while ensuring life safety and compliance. She has instituted operational procedures, policies and control systems to ensure efficient and economical operations within development goals that meet City, State, and Federal regulations. Marilyn earned a BA, BS, and AS from Rutgers University. In addition, Marilyn studied Construction Project Management, Sustainable Design and Development, Facilities Administration and Corporate Sustainability at New York University, Schack Institute of Real Estate.
Julia Foster, Vice President, Marketing and Communications
Julia Foster leads City Harvest's Marketing & Communications team, overseeing brand marketing, advertising, digital, and press to position the organization as a leader in the anti-hunger movement and raise awareness of our work locally and nationally. A native New Yorker, Julia joined City Harvest in 2013 after serving as the Director of Marketing & Communications at the French Institute Alliance Française (FIAF). Prior to that, she worked in marketing at a variety of consumer facing brands, such as Next Jump, Plum TV, SpaFinder, and Organic Style Magazine.
Michael Fowles, Vice President, Supply Chain
Michael Fowles manages City Harvest's logistics and supply chain, helping guide millions of pounds of food from national and local donors to hundreds of food pantries, soup kitchens, Mobile Markets, and community partners throughout New York City. Prior to joining City Harvest, Michael served as Director of Distribution at Duane Reade/Walgreens, managing real estate, material handling equipment, technology and transportation and launching the city's largest private electric truck fleet.  He also oversaw logistics and supply chain operations at Foodhandler in Melville, NY and Microflex in Reno, Nev. Michael earned his undergraduate degree from the United States Merchant Marine Academy and his MBA from University of Nevada, Reno.
Jenique Jones, Vice President, Program Operations and Policy
Jenique Jones oversees the organization's food distribution, programs, and policy and government relations work. Her teams ensure tens of millions of pounds are delivered to hundreds of community food programs across New York City annually. Additionally these teams work with partners across the five boroughs to increase access to fresh produce, help residents shop for and cook nutritious, budget-conscious meals. She also works with federal, state, and local partners on policies that affect hunger and health. A native New Yorker, Jenique joined City Harvest in 2009 and is passionate about empowering her neighbors to make positive change for themselves, their families, and their communities. She had a long career in the public sector working for both the New York State Senate and the NYC Department of Education prior to City Harvest.