COVID-19 Response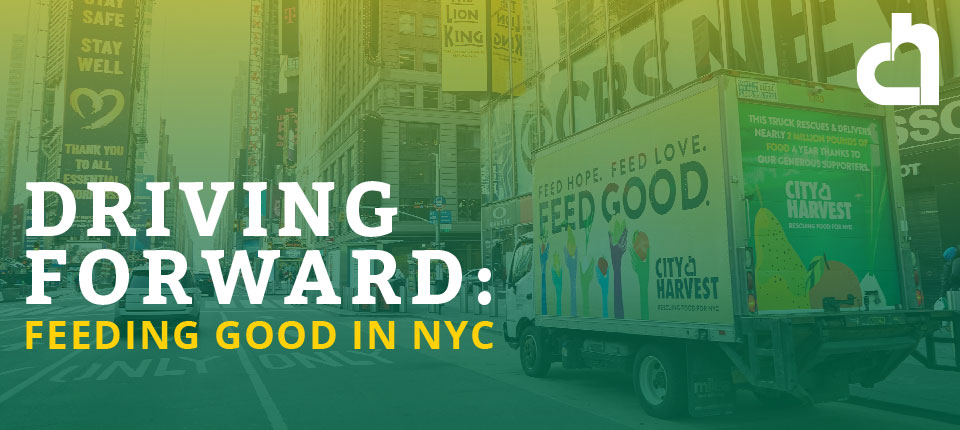 Designated an essential service in the early days of the COVID-19 crisis, City Harvest stepped up to feed our neighbors in need—just as we have done during good times and times of disasters and crises for 40 years.
When the economy ground to a halt and the unemployment rate surged above 20%, City Harvest moved quickly to help feed the massive number of New Yorkers who suddenly found themselves with no income. During the crisis, City Harvest rescued and delivered more than 270 million pounds of food – more than double the amount for the same period of time prior to the pandemic—for our fellow New Yorkers.
The number of New York City residents facing food insecurity ballooned by as much as 54% during the pandemic, according to projections from Feeding America. Among our city's children, food insecurity spiked by as much as 64%.
Read or download our report about the first year feeding NYC during a pandemic:
During the pandemic, we significantly boosted our capacity:
Throughout the pandemic, we partnered to help open dozens of Emergency Food Distribution Sites in high-need neighborhoods, particularly where community food programs were forced to close because of lack of volunteers and fear of the virus. This included feeding frontline healthcare workers at the emergency distribution sites near hospitals and medical centers.
We repacked hundreds of thousands of pounds of food each week into family-sized bags to ensure safe distribution.
We never stopped—ensuring that our fleet of trucks was on the road 24 hours a day, seven days a week, rescuing and delivering food and that our Mobile Markets® remained open throughout the crisis, distributing free, fresh produce and nutritious shelf-stable foods to families across the five boroughs.
In times of need, New Yorkers step up for each other. As New York recovers from the pandemic and economic challenges remain for millions of New Yorkers, City Harvest is committed to feeding all of our neighbors in need—one day, one meal, one New Yorker at a time.
Join us and help make sure everyone in our city has access to fresh, nutritious food during this time of crisis. Read more about Hunger in NYC.