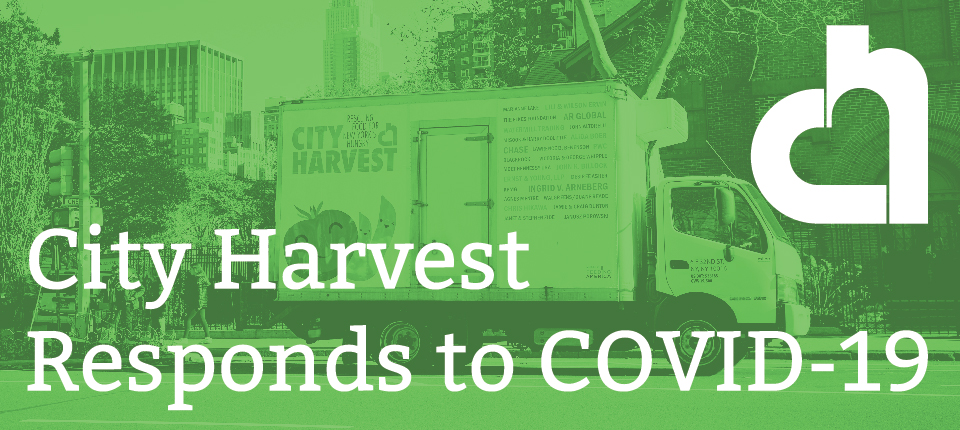 City Harvest is committed to meeting the increasing need as the devastating economic impact of COVID-19 continues to shape our new reality. We have always been neighbors helping neighbors, and together we can feed our city during this unprecedented crisis—one meal, one day, one person at a time.
Designated an essential service by Governor Cuomo and New York State, City Harvest, New York City's private response to hunger and largest food rescue organization, has mobilized to feed children, families, and all of our neighbors in need during the COVID-19 pandemic.
As the pandemic upends the local and global economy, unemployment continues to climb at an alarming rate. Even before the crisis, 2.5 million working-age New Yorkers were struggling to make ends meet, and now many more are experiencing crippling financial hardship. Many who never before have needed food assistance, and an increasing number of young families with children, are now coming to our Mobile Markets and to the community food programs we deliver food to for help. In the weeks and months to come, we expect even more will need help accessing food.
City Harvest has always stepped up to feed New Yorkers in times of great need. We are committed to feeding everyone who was relying on us before the crisis, and all of our neighbors who now face uncertainty and need our help to put food on their tables.
We have adjusted our operations in accordance with recommendations from the Centers for Disease Control and Prevention (CDC), and to meet the need:
Our trucks continue to be on the road and maintain all their scheduled routes, rescuing and delivering food free of charge for community food programs across the city.
Our Mobile Markets are maintaining their schedules and are continuing to distribute free, fresh produce and nutritious shelf-stable foods to families across the five boroughs. Since the start of the crisis, we have delivered nearly 650,000 pounds of food through our Mobile Markets to more than 17,000 households.
With 71 community food programs we regularly deliver to having been forced to completely shut down, we have added 19 Emergency Food Distribution Sites that are each receiving 4,000-40,000 pounds of food for weekly or bi-weekly distributions in high-need neighborhoods, particularly where community food programs have shut down.
We continue to repack thousands of pounds of shelf-stable food and produce every week at our

Food Rescue Facility

into family-sized portions for distribution to community food programs, our Mobile Markets, Harvest Express: Community Partner Distributions, and Emergency Food Distribution Sites. We have repacked over 1.6 million pounds of food since our COVID-19 response work began.
In addition to distributing food, we are delivering nearly 7,500 meals a week to our neighbors in need, including 1,000 meals from Gertie in Brooklyn, 5,000 meals from World Central Kitchen, and almost 300 pizza pies from Sauce Pizzeria.
We are working to help feed frontline health care workers by establishing new Emergency Food Distribution Sites at hospitals and medical centers.
From March through June 30, we will rescue and deliver 35 million pounds of food, 61% more than the same period last year, to meet the increased need during the COVID-19 crisis.
The best way to support City Harvest's work is by donating funds, so we can swiftly respond to the increasing and unprecedented need.
Programs such as P-EBT, which began distributing benefits to all NYC public school students this past week, are an example of the type of critical support that can prevent our neighbors from going hungry during this crisis. Join us and urge your Senator to pass the current HEROES Act now, to extend this benefit through all school closures in the next year.
---
In times of need, New Yorkers step up. Join us and help make sure everyone in our city has access to fresh, nutritious food during this time of crisis.