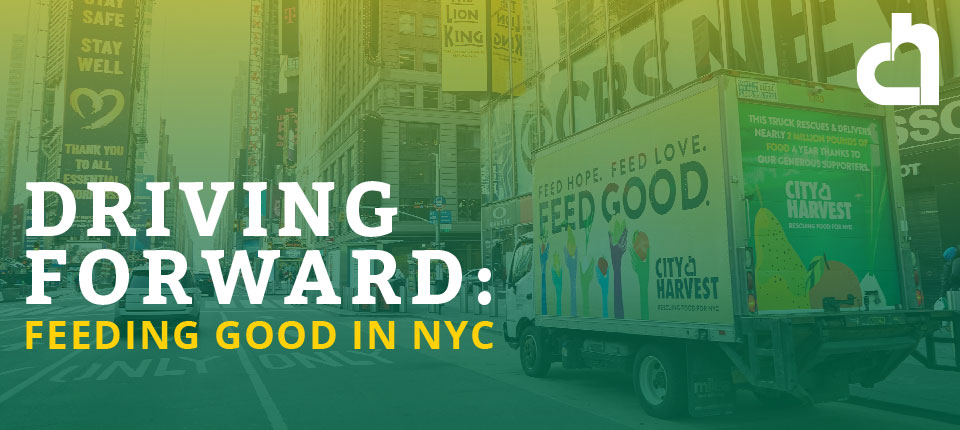 More than a year into the COVID-19 crisis, New York City continues to grapple with the devastating fallout. City Harvest is committed to feeding all of our neighbors in need—one meal, one day, one New Yorker at a time.
Since the beginning of the crisis, City Harvest has rescued and delivered, for free, more than 151 million pounds of food—more than twice as much as the same period the year before.
As we look toward the uncertain times ahead, City Harvest will continue to rescue and deliver more food than ever before—some 153 million pounds of nutritious food between July 2020 and June 2021—to help feed the many New Yorkers who are depending on us right now.
---
Read or download our report of the past year feeding NYC in the wake of a pandemic:
Since the beginning of the pandemic, we have significantly boosted our capacity:
We partnered to help open 26 Emergency Food Distribution Sites in high-need neighborhoods, particularly where

community food programs

were forced to close. At the emergency distribution sites near hospitals and medical centers, we continue to feed frontline healthcare workers.
We are rescuing record amounts of food through our warehouse where we are also repacking hundreds of thousands of pounds of food into family-sized bags each week to ensure safe distribution.
Our fleet of trucks is on the road 24 hours a day, seven days a week rescuing and delivering food.
Our Mobile Markets have remained open throughout the crisis, continuing to distribute free, fresh produce and nutritious shelf-stable foods to families across the five boroughs. Since March, our Mobile Markets have distributed 5.5 million pounds to more than 124,000 New Yorkers.
Even before COVID-19, 2.5 million working-age New Yorkers were struggling to make ends meet. Now, New York City's food insecurity crisis is getting even worse.
The number of New York City residents facing food insecurity ballooned by 54% during the pandemic, according to projections from Feeding America. Among our city's children, food insecurity spiked by 64%.
City Harvest has always stepped up to feed New Yorkers in times of crisis. We are committed to feeding everyone who was relying on us before the crisis and every New Yorker—many seeking food assistance for the first time—who needs help now and during the uncertain months to come.
The best way to support City Harvest's work is by donating funds, so we can continue to swiftly respond to the increasing and unprecedented need.
---
In times of need, New Yorkers step up. Join us and help make sure everyone in our city has access to fresh, nutritious food during this time of crisis.