Team City Harvest: Virtual Marathon & Running Club
Team City Harvest: Virtual Marathon & Running Club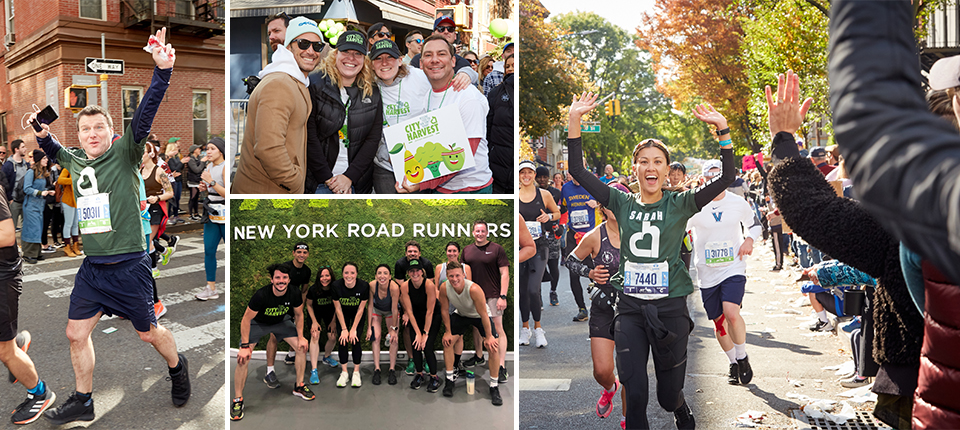 The TCS New York City Marathon represents the best of New York's spirit—when all New Yorkers come together to support each other and cheer on their neighbors. Though we are not able to be together in person this year, the camaraderie is needed now more than ever.
As an eight-time Charity Partner of the TCS New York City Marathon, we are proud to announce Team City Harvest: Virtual Marathon & Running Club, a virtual fundraising team for New Yorkers helping New Yorkers. We have set an ambitious team fundraising goal of $275,000—enough to help feed nearly 1 million New Yorkers for a day! At a time when more and more New Yorkers may not know where their next meal will come from, your help is vital.
Donate to Team City Harvest  Learn More About Joining Team City Harvest

Team City Harvest Runners may elect to run the official 26.2-mile TCS Virtual New York City Marathon from October 17–November 1, 2020, or participate in monthly virtual 5k and 10k runs. All runners will have access to virtual Wellness Wednesday events, such as healthy food demos. This year, even our youngest supporters are able to join in on the fun by participating in virtual 1 mile walks, as a Team Junior Harvest Running Club Member, with their friends and family! Corporations are also invited to join Team City Harvest, and take part in all virtual runs and events. Corporate groups will also have access to custom sponsorships—including presenting opportunities, product integration, events, and more. Learn more about the Team City Harvest: Virtual Marathon & Running Club Benefits.
To join Team City Harvest as a Virtual Marathon Runner or Running Club Runner, please contact Olivia McMahon at [email protected].
For more information on Corporate Opportunities, please contact Gabrielle Mizrahi at [email protected].
---
Last year's team of 50 runners raised an incredible $260,000 to help us rescue and deliver good food for our neighbors in need. View photos from Race Day 2019 on Facebook.