It Takes A City to Feed A City
It Takes A City To Feed A City: Recognizing Our City Harvest Family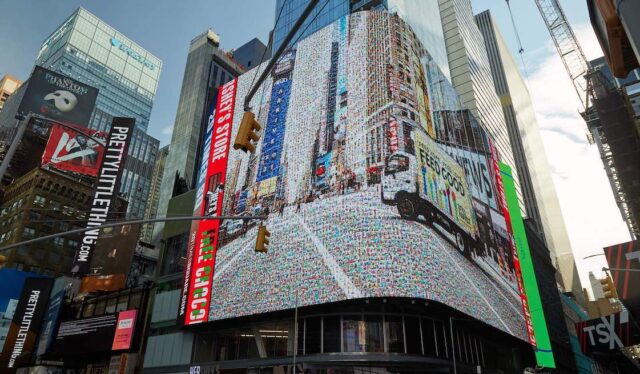 It takes a city to FEED GOOD. All of us at City Harvest would like to thank everyone who has stepped up to nourish our fellow New Yorkers since the start of the pandemic, Our work is only possible because of all of you who are committed to feeding our neighbors and join with us every day.
We are thrilled to share that the It Takes A City To Feed A City photo mosaic is live on a digital billboard in Times Square located at 20 Times Square, where it will run through mid-March.
The mosaic is comprised of hundreds of photos from members of the City Harvest family—including our volunteers, agency partners, food donors, Food Council members, corporate supporters, and celebrity supporters Richard Gere, Bridget Moynahan, Matt Bomer, and Brooks Nader. Thank you to everyone who submitted photos. The mosaic image will also be featured on one of City Harvest's food rescue trucks for six months.
Watch a video showing how the mosaic comes together!
Thanks to the generosity of our sponsors, It Takes A City To Feed A City raised to enough to help feed more than 330,000 New York City families who are depending on us to put meals on their tables right now.
From all of us at City Harvest, thank you for standing with us to FEED GOOD, especially during this particularly challenging year.
A special thanks to our supporters making this campaign possible, including:
LA Photo Party for the inspiration behind the It Takes A City To Feed A City mosaic.

 

Our creative agency Makeable and Rocket Film for creating the It Takes A City To Feed A City mosaic video.
Maefield Development and its Chairman Mark Siffin for their generous support and commitment to City Harvest, making possible the inclusion of the completed mosaic on a digital billboard in Times Square.

 

Times Square Alliance and its President Tim Thompkins for their endless energy in caring for America's Town Square, Times Square.

 

D3 and its Chief Technology Officer Meric Adriansen for their technical support and engineering of the 20 Times Square Broadcast.

 

Clear Channel for its help in organizing the time and transmission for the broadcast on the sign.
Thank You to Our It Takes A City To Feed A City Sponsors