Amanda Phingbodhipakkiya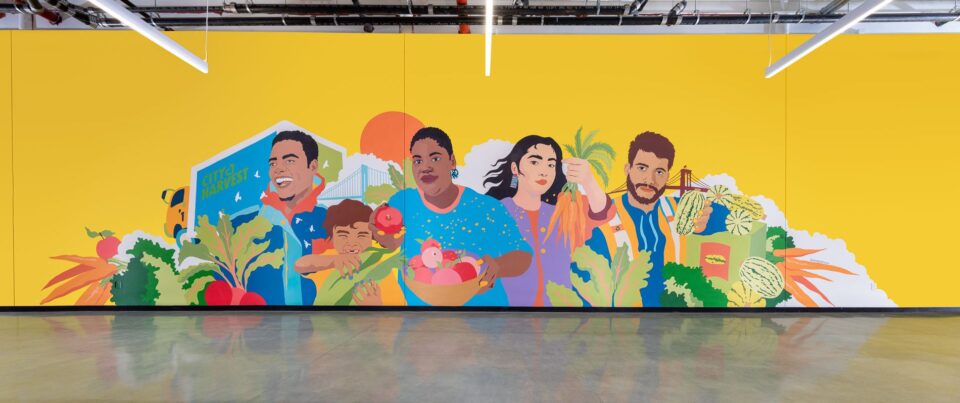 Amanda Phingbodhipakkiya is a multidisciplinary Brooklyn artist and activist whose work has appeared at the Cooper Union, Times Square and billboards and bus kiosks throughout New York City. In 2022, she transformed Lincoln Center's campus with GATHER, a series of monuments and rituals. Amanda is artist-in-residence with the NYC Commission on Human Rights.
Amanda Phingbodhipakkiya (b. 1988)
Neighbors Feeding Neighbors, 2023
Latex paint.
Size: 11'–4″ x 48'–6″
Part of the City Harvest Art Initiative
I try to foster belonging and encourage transformative moments in my art. I create ecosystems of care and healing through murals, textile work, sculpture and participatory rituals.

I grew up in Georgia, where my father owned ten Thai restaurants. That's probably why I've always wanted to invite people in.

I first came to New York City to attend Columbia University, where I studied neuroscience. But I wanted to create. I had always been into performing and visual arts.  I began to see what I could do as an artist when I had difficulty recruiting people to take part in scientific studies. When I made recruitment posters, I saw the power of the visual image.

From there, my career as an artist has been nonlinear and full of surprises.

My City Harvest mural is the first thing people will see in the building, so I wanted it to be welcoming. For research, I spoke with dozens of people who work at City Harvest—volunteers, drivers, the people who work in the warehouse. What I heard most was, "We are all neighbors." And people spoke of values like joy, kindness, sustenance and reciprocity.

It was such a gift to hear their stories. I wanted to bring it full circle in the mural, which depicts those values coming to life in the members of the City Harvest community.

Art allows us to imagine beautiful futures, including the one that I depict, where we can all have good food, good health—and have it all with ease.
alonglastname.com
Instagram: @alonglastname