COVID-19 Update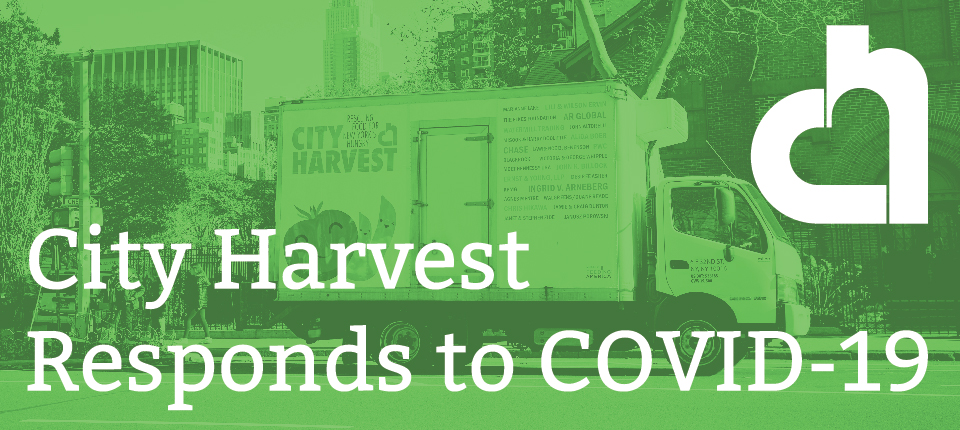 Designated an essential service by Governor Cuomo and New York State, we are stepping up to rescue and deliver more food to meet the need during this unprecedented time, and we'll work hard to make sure all children in New York City and their families have enough food.
With NYC public schools closed, we know that children may lose access to school meals and families will face greater challenges affording food. Additionally, as the economic impact of the crisis becomes a reality, even more New Yorkers will be turning to us to put food on their tables. We're already hearing that some soup kitchens and food pantries need to close their doors in light of health concerns, and we know supermarkets are struggling to keep their shelves stocked. We are committed to responsibly continuing our operations and feeding everyone who is relying on us today, and anyone who may need us tomorrow.
What We're Doing to Meet the Need
Maintaining Operations: With the safety and well-being of our staff in mind, we are focused on keeping our trucks on the road, rescuing and delivering food for New Yorkers in need.
Responding in Real Time: We are in touch with our partner community food programs, so that we can hear what they're experiencing on the ground and respond to their needs.
Mobile Markets: Our nine Mobile Markets will maintain their current schedule. We have adjusted how our Mobile Markets operate in accordance with social distancing and we will be distributing pre-bagged food.
How You Can Help
Donate Funds: We expect more New Yorkers to turn to us to help put food on their tables in the coming days, weeks, and months. Your support will keep shelves at soup kitchens and food pantries stocked with nutritious food. Through April 17, our Board of Directors is matching every $1 donated with $2 of their own, ensuring your gift goes 3 times as far. Donate today.
Donate Food: Please note that we are currently experiencing a high volume of food donation inquiries at the local level. With many restaurant closures over the next few weeks, we are hearing of the need for food for staff. As a result, please offer food assistance to staff prior to making arrangements for a pickup. Given the high volume of food pickup requests, at this time, City Harvest can only accept quantities of 3,000 pounds (or 2+ pallets) of food or more. That said, donations below this minimum will be reviewed by the Food Sourcing team to arrange either:

a direct pickup by an agency within our network; or
request a delivery by the restaurant to a nearby agency
Please send the following information to

[email protected]

:

Donor/Restaurant Name
Pickup Address
On-site Contact (Name, Email, and Phone Number)
Any special instructions for the building?
Estimated amount of food & types (if you can include # of trays/boxes/bags, that's really helpful! A general estimate is okay too, if not)

Please note: we are unable to accept anything that has been opened, is not in original packaging or is past expiration.
If you have a tractor-trailer of food (20+ pallets or 40,000 pounds or more) please contact our Procurement and Logistics team at

[email protected]

.

Volunteer: We are adjusting our volunteer experience in accordance with guidance from the Centers for Disease Control and Prevention (CDC) and the New York City and State Departments of Health. Please check our Volunteer Portal for upcoming volunteer opportunities.
Spread the Word: City Harvest has always been about neighbors helping neighbors. Together, we can help feed our city, even at this time of crisis. Let your friends, family, and colleagues know what you're doing to ensure no one in our city goes hungry. Follow our work on Instagram, Facebook, and Twitter, and please share our posts to your own channels to amplify our reach.
We will continue to monitor the situation, relying on guidance from the Centers for Disease Control and New York State and City Departments of Health, and we will work closely with Feeding America and our anti-hunger partners across the city, state, and country to respond to the need. Please return to this page for updates on our work.