The 40th Annual Daily News Food Drive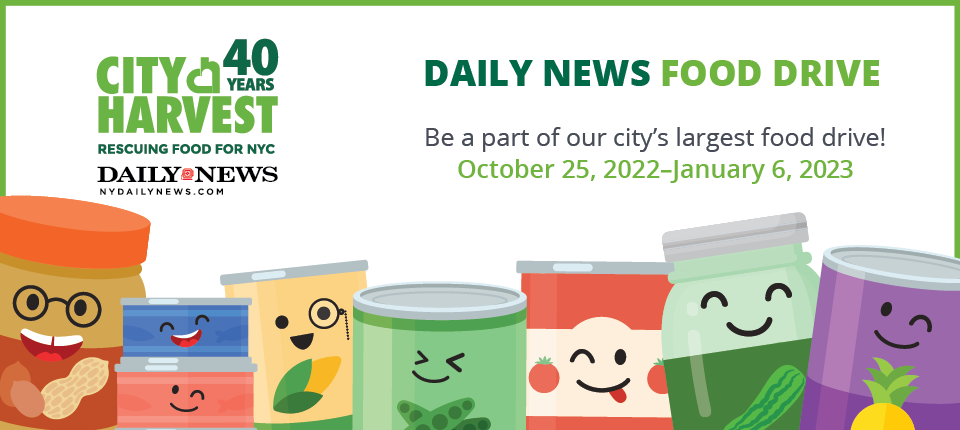 Millions of New Yorkers across the five boroughs continue to struggle with rising costs of necessities like food, rent, and gas. Thank you for helping to feed our neighbors in need.
For 40 years, City Harvest and the New York Daily News have partnered to host the city's largest food drive, taking place this year from Tuesday, October 25, 2022 through Friday, January 6, 2023. Our goal is to collect over 700,000 pounds of nutritious food, which we will deliver, free of charge, to hundreds of food pantries and other community food programs across the five boroughs.
This year, there are a number of ways you can get involved.
HOW TO RUN A TRADITIONAL (IN PERSON) FOOD DRIVE
Running a food drive is easy! Our digital tool kits provide you with all of the materials you will need to run your food drive, including instructions, tips, flyers, and posters.
For more information or to schedule a pick-up, contact our food drives team at [email protected] or call 646.277.7800.
HOW TO RUN AN ONLINE FOOD DRIVE
We've partnered with #GiveHealthy, a platform that allows participants to order fresh produce to be delivered directly to the City Harvest warehouse. Start your online food drive today!
For helpful instructions, tips, and posters, please download the digital toolkits below
DROP-OFF LOCATIONS
Can't run a food drive, but want to donate food?
Help feed our city this holiday season by dropping off non-perishable food donations at FDNY stations or NYPD precincts serving as public drop-off sites throughout the five boroughs from October 25 through January 6. 
Click the links below to find a drop off location hear you:
"FILL A BOX" DRAWING ACTIVITY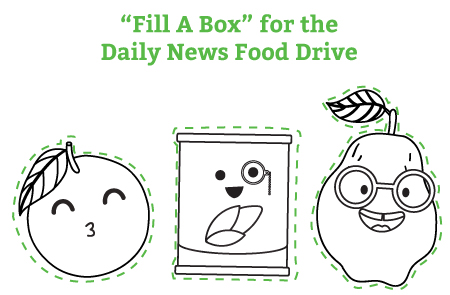 Get your kids involved in this fun drawing activity to help raise awareness of the Daily News Food Drive! Download your coloring pages
INTERESTED IN DONATING FUNDS?
Every $1.29 donated helps City Harvest feed a New York City family in need. Donate today.
Many thanks to our generous sponsors: