The 37th Annual Daily News Food Drive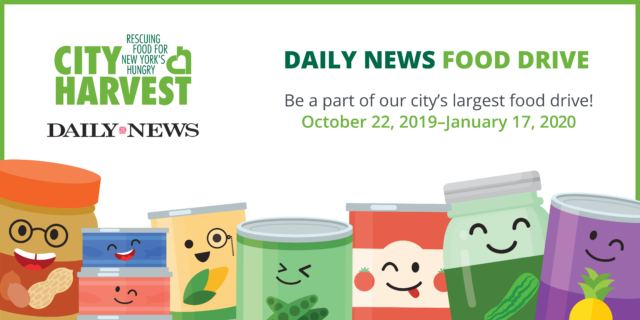 Nearly 1.2 million New Yorkers are struggling to put food on their tables. Thank you for dishing out the love to help feed our neighbors in need.
Each year, City Harvest and the Daily News collect non-perishable food to keep shelves stocked at hundreds of soup kitchens, food pantries, and other community food programs across the city. This past year, New Yorkers came together and collected over 760,000 pounds of food to help feed our city. Thank you!
Kids Can Help Competition
All participating schools were automatically entered into the Kids Can Help Competition—and thanks to Macmillan Children's Publishing Group, the school in each borough that collects the most food will win a prize!
We are so grateful to the winners of the Kids Can Help Competition for leading the way:
Brooklyn: Edward R. Murrow High School
The Bronx: MS 128 – Mott Hall III & PS 86 – Kingsbridge Heights (a tie!)
Manhattan: PS 41 – Greenwich Village
Queens: Academy of American Studies
Staten Island: IS 75 – Frank D. Paulo Intermediate School
Interested in making a donation? Show your support for City Harvest by donating directly to the Daily News Virtual Food Drive, created specifically for this year's drive!
Many thanks to our generous 2019 sponsors: