The 37th Annual Daily News Food Drive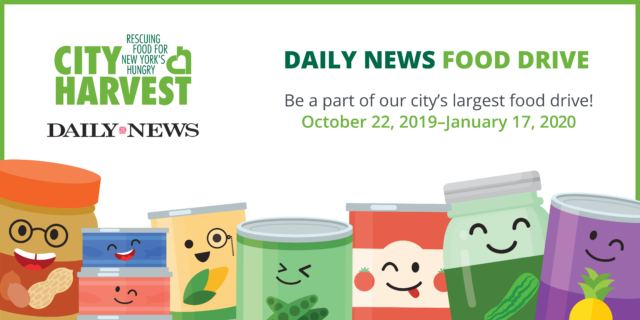 Nearly 1.2 million New Yorkers are struggling to put food on their tables. Let's dish out the love and help feed our neighbors in need.
Participate in New York City's largest food drive. Help City Harvest and the Daily News collect non-perishable food to keep shelves stocked at hundreds of soup kitchens, food pantries, and other community food programs across the city. Running a food drive helps keep City Harvest's trucks on the road filled with good, nutritious food during the holiday season. Any business, organization, or school can run a food drive for City Harvest.
Kids Can Help Competition
All participating schools will be automatically entered into the Kids Can Help Competition—and thanks to Macmillan Children's Publishing Group, the school in each borough that collects the most food will win a prize! You may run your school's drive at any time between October 22 and January 17.
Interested in making a donation? Show your support for City Harvest by donating directly to the Daily News Virtual Food Drive, created specifically for this year's drive!
HOW TO RUN A FOOD DRIVE
Running a food drive is easy! Our digital toolkits provide you with all of the materials you will need to run your food drive, including instructions, tips, flyers, and posters.
For more information or to schedule a pick-up, email [email protected] or call 646.412.0758.
DROP-OFF LOCATIONS
Can't run a food drive, but want to donate food? Drop off non-perishable food donations at City Harvest's office in Midtown Manhattan, any FDNY or NYPD station, and Apple Bank locations throughout the five boroughs from October 22 through January 17. Find a drop-off location near you:
City Harvest,  6 East 32nd Street
DAILY NEWS VIRTUAL FOOD DRIVE
Donate funds to the Daily News Virtual Food Drive or start your own sub-team to encourage family, friends, and colleagues to join in.
Many thanks to our generous sponsors: