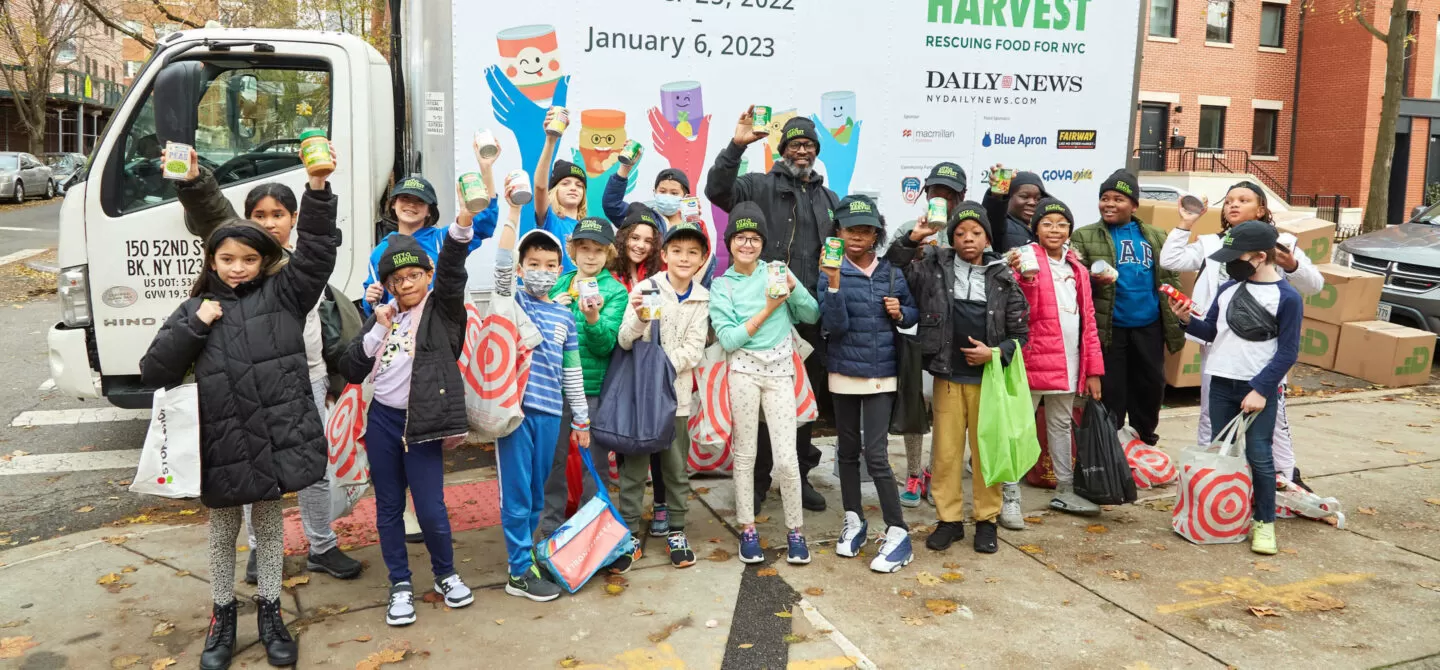 Food Drives
Participate In A Food Drive Or Start Your Own.
All over the city, New Yorkers help feed their neighbors by organizing food drives with their schools, apartment buildings, businesses, and places of worship. Help City Harvest feed New York City by keeping food pantries and soup kitchens stocked year-round. For more information on running a food drive, please see below, email [email protected], or call 646.277.7800.
Start An Online Fresh Food Drive
Did you know that more than half of the food City Harvest rescues and delivers is fresh fruits and vegetables? If you're looking for an alternative to a traditional canned food drive, you can help donate fresh produce by running a #GiveHealthy food drive. The #GiveHealthy platform allows you to purchase food items directly for City Harvest.
Current Food Drives
High Holidays Food Drive

MONDAY, SEPTEMBER 11–MONDAY, OCTOBER 9, 2023

More than half a million Jewish New Yorkers struggle to put food on their tables. You can help our kosher neighbors in need by participating in City Harvest's High Holidays Food Drive. Last year, we collected more than 24,800 pounds of food! Help us collect even more this year.

Thanks to our friends at the 92nd Street Y, there will be a public drop-off site for non-perishable food donations available in their lobby, behind the security guard station (1395 Lexington Avenue, between E 91st Street and E 92nd Street).

How to Run a Traditional Food Drive
How to Run an Online Food Drive
Food Drive Poster (8.5×11 in)
Food Drive Poster (11×17 in.)
Upcoming Food Drives
Daily News Food Drive

TUESDAY, OCTOBER 24, 2023–FRIDAY, JANUARY 12, 2024
This year, we are once again partnering with The New York Daily News to host The Daily News Food Drive, the largest food drive in New York City. This annual event runs throughout the holiday season to provide nutritious food for our neighbors in need. Last year, our food drive collected more than 700,000 pounds of non-perishable food―enough to help provide more than 580,000 meals for New Yorkers in need.
Past Food Drives
Feed Our Kids

SUNDAY, MAY 14–SUNDAY, JUNE 18, 2023
City Harvest's annual Feed Our Kids food drive, runs each year from Mother's Day to Father's Day and helps provide much needed food for New York City's children and their families, especially during summer, when access to free schools meals may become limited. This year, we were able to raise over 165,000 pounds of food.

Thank you to our 2023 generous partners:

Passover Food Drive

MONDAY, MARCH 13–MONDAY, APRIL 17, 2023
More than half a million Jewish New Yorkers struggle to put kosher food on their tables. This year, City Harvest's Passover Food Drive raised over 14,000 pounds of kosher food. Read about our work helping provide kosher for Passover 

food

 to the Masbia 

food

pantry in Brooklyn. Thanks to our generous sponsors: