The 2023 Winter Family Carnival: Electric Safari
City Harvest Presents The 2023 Winter Family Carnival: Electric Safari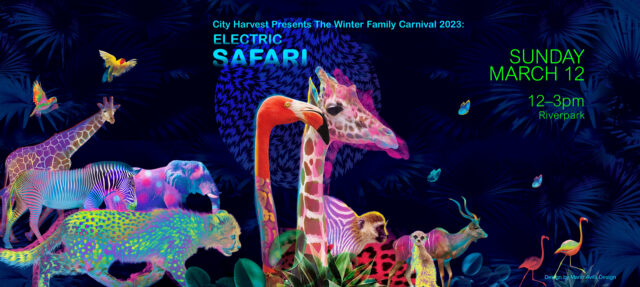 Purchase Tickets Make a Contribution
As City Harvest marks 40 years serving New York City, join us for our Winter Family Carnival, back in-person for the first time since 2020. Hosted by our Junior Food Council members, Madeline and Anna Zakarian, guests of all ages will enjoy creative, fun activities and delicious tasting stations with kid favorites and sophisticated bites from some of the city's best restaurants, all while being immersed in an exciting Electric Safari theme with dynamic live entertainment from On The Move.
Perfect for the entire family, Winter Family Carnival features non-alcoholic specialty drinks for kids and an open bar for adults. Past events have included cuisine by Hill Country Barbecue Market, GupShup, Blue Ribbon, Casa Bocado, and Leuca, as well as a hot chocolate bar, and a crafts corner from Craft Studio. All proceeds from the 2023 Winter Family Carnival will support City Harvest's work to rescue and deliver food for families in need.
For questions about the event, please contact Rachel Haspel, Senior Manager, Special Events, at [email protected] or call 646.412.0648.
For Sponsorship Opportunities, please contact Tessa Lechleider, Coordinator of Business Partnerships at [email protected], or call 646.412.0662.
Watch a Recap of City Harvest Presents the 2020 Winter Family Carnival
Thank You to Our Event Leadership
The Backal Family
The Baldwin Family
The Burtka-Harris Family
The Charnas Family
The Chubak Family
The Clayton Family
The  Dunton Family
The Goyal Family
The Hodne Family
The Keller Family
The Morcos Family
The Rallo Family
The Rueven Family
The Serhant Family
The Wood Family
The Young Family
The Zakarian Family
Restaurants, Chefs, & Mixologists
Butcher Bar
Muddling Memories
Scampi
SONA
Wayan
Zola Bakes