Running a food drive for City Harvest is easy! All you need is a sturdy box and a place to set it up.
Start a Food Drive Today!
All over the city, New Yorkers help feed their neighbors by organizing food drives with their schools, apartment buildings, businesses, and places of worship. Help City Harvest feed New York City's men, women and children by keeping food pantries and soup kitchens stocked year-round! For more information on running a food drive, please see below, email [email protected], or call 646.412.0758.
Download our List of Most Needed Items

Did you know that more than half of the food City Harvest rescues and delivers is fresh fruits and vegetables? If you're looking for an alternative to a traditional canned food drive, you can help donate fresh produce by running a #GiveHealthy food drive. The #GiveHealthy platform allows you to purchase food items directly for City Harvest.
Start Your Own #GiveHealthy Drive
Sunday, May 10–Sunday, June 21, 2020
City Harvest's annual Feed Our Kids food drive, which ran from Mother's Day to Father's Day (May 10–June 21, 2020), helped to provide much needed food for New York City's children and their families. This year, with schools across the city closed since March due to the COVID-19 crisis, the need among our city's children and families was especially urgent. Find out more.
Special thanks to our 2020 sponsors :


City Harvest's Passover Food Drive, which ran in March 2020, collected kosher for Passover and/or Chometz food to help feed the more than half a million Jewish New Yorkers struggle to put kosher food on their tables. Check back in a few weeks to find out how much food we collected to help our neighbors in need.
Read more about our Jewish neighbors in this story from The Tablet and about our kosher initiative in this article from The Jewish Press.
Tuesday, October 22, 2019–Friday, January 17, 2020
For over 36 years, City Harvest and the Daily News have been joining forces to host the largest food drive in New York City to collect non-perishable food to help feed the nearly 1.2 million New Yorkers facing hunger this holiday season. This year, New Yorkers came together and collected over 760,000 pounds of food for the Daily News Food Drive! Thank you to everyone who participated in this year's drive.  
Interested in donating funds? Every $1 helps City Harvest rescue nearly four pounds of good food. Donate to the Daily News Virtual Food Drive.
Thank you to this year's generous sponsors: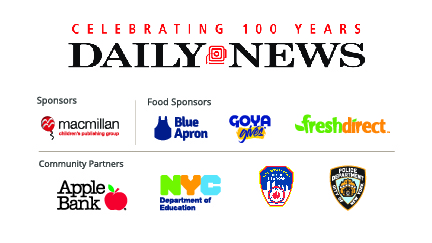 MONDAY, SEPTEMBER 9 - FRIDAY, OCTOBER 11, 2019
City Harvest's High Holidays Food Drive, which ran from September 9 to October 11, collected more than 18,000 pounds of kosher food for distribution to 26 kosher food programs. Thank you to all who helped to feed the more than half a million Jewish New Yorkers struggle to put kosher food on their tables during a season of heightened need.