Help drive hunger out of New York City by volunteering with us.
There are many ways volunteers can help City Harvest ensure that good food does not go to waste in our city. Ready to get started? Sign up to join City Harvest and help feed New Yorkers in need today. Already a City Harvest volunteer? Click here to login. Check out our volunteer opportunities, below.

Mobile Markets
These farmers market style distributions deliver fresh produce free of charge 18 times a month across all five boroughs. You will distribute thousands of pounds of fruits and vegetables to hundreds of families.
Time commitment: 8:45am to 12:00pm; our Mobile Markets take place twice a month at each of our nine locations
Location: All five boroughs
Under 18? Contact Volunteer Services to learn more about youth volunteering at
[email protected]
.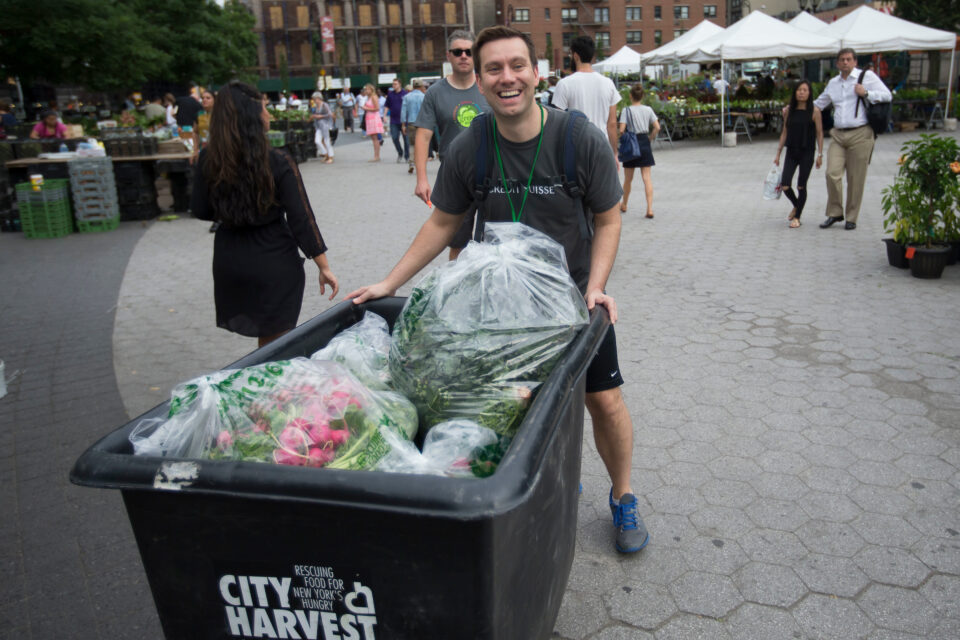 Greenmarket Rescues (Seasonal Opportunity)
Rescue thousands of pounds of fresh, seasonal produce that would otherwise go to waste at Greenmarkets across the city . At the close of the market, volunteers collect excess food from local farmers and help load it onto City Harvest trucks, which immediately deliver the food to
soup kitchen

s
and
food pantries
across the city.
Location: varies seasonally
Time commitment: varies, 1-2 hours

Repack Assistant
Help City Harvest efficiently repack bulk produce for our network of over 400 community food programs. You will assist a group of corporate volunteers as they sort thousands of pounds of fruits and vegetables stored in bulk containers into smaller, family-sized portions.
Time commitment: 3 hours; weekdays
Minimum age requirement: 18 years old
Location: City Harvest
Food Rescue Facility
 
Food Show Rescues
New York City is home to some of the biggest food trade shows in the world. Help ensure that high-quality, specialty food doesn't go to waste by joining a food show rescue. You will collect excess food from vendors at the end of trade shows such as the Fancy Food Show and New York Produce Show.
Time commitment: varies
Minimum age requirement: 18 years old
Location: various locations in New York City
Office Work
Put your office skills to work by joining us at our Midtown headquarters to help with mailings, data entry, and other administrative projects. Your help supports our efforts to rescue and deliver 66 million pounds of nutritious food this year.
Time commitment: flexible hours between 9am and 5pm on weekdays as needed
Location: 6 E. 32nd Street, New York, NY
 
Nutrition Education
We invite New Yorkers with an educational, culinary, or nutrition background, or a strong interest in healthy cooking and eating, to be a part of our Nutrition Education volunteer opportunities. Our free Nutrition Education class and cooking demonstrations mostly take place Monday–Friday during regular business hours, with occasional Saturday mornings, in schools, community centers, and supermarkets across all five boroughs. We will supply you with recipes and all of the information and materials you'll need. All that's required is your passion and a basic understanding of cooking. Learn more.
Time commitment: varies
Minimum age requirement: 18 years old
Location: throughout all five boroughs