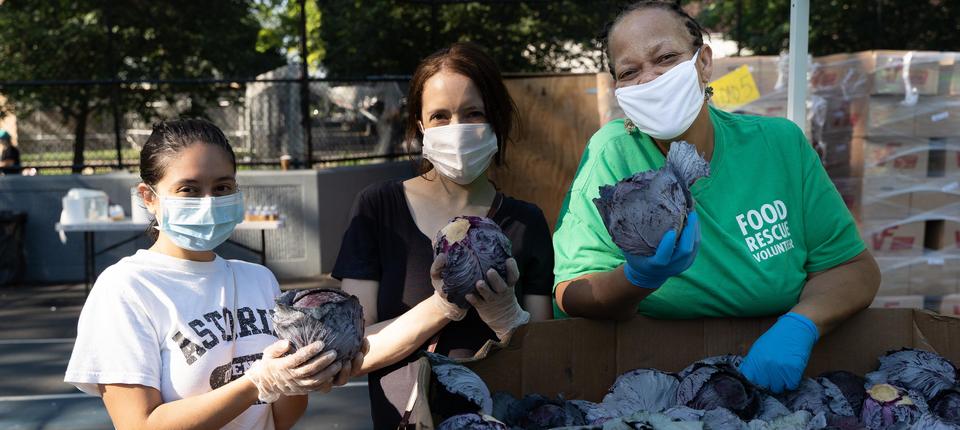 Our volunteers are critical to our work year-round. City Harvest requires all volunteers abide by our updated Volunteer Policies (available on our Volunteer Portal).
Effective 12/21/22, all volunteers and staff must wear a face covering while indoors at volunteer projects to prevent the spread of COVID-19 and protect our volunteers, clients, and staff. All volunteers should provide their own face mask; City Harvest will have face masks on-site if a volunteer forgets theirs. A face mask is a multi-layer mask, a surgical mask or gaiter that fits snugly against the sides of your face and fully covers both your nose and mouth. Masks and face coverings that are not tightly woven or that allow free passage of respiratory droplets. As a reminder, you should not volunteer if you are currently diagnosed with or experiencing symptoms of COVID-19, or have a health condition that places you at risk of severe COVID-19 illness.
Please check our Volunteer Portal for upcoming opportunities. Haven't volunteered with City Harvest before? You'll need to attend a virtual orientation before joining us out in the field.
Learn more about how we're responding to the COVID-19 crisis and more ways you can help.
---
City Harvest volunteers help ensure that good food doesn't go to waste. Whether you have experience in teaching and nutrition, care about improving food access, are interested in working with local farmers, or simply want to give back to your community, your passion and time are important resources in the fight against hunger.
Learn more about individual volunteer opportunities.
Volunteers from hundreds of companies and community organizations located in New York City generously donate their time to help City Harvest feed our city. Find out how you and your group can team up to help feed our neighbors.
Learn more about group volunteer opportunities.
---
Further questions? Check out our Volunteer FAQ's.