The 40th Anniversary Gala: House of Harvest
City Harvest Presents The 40th Anniversary Gala: House of Harvest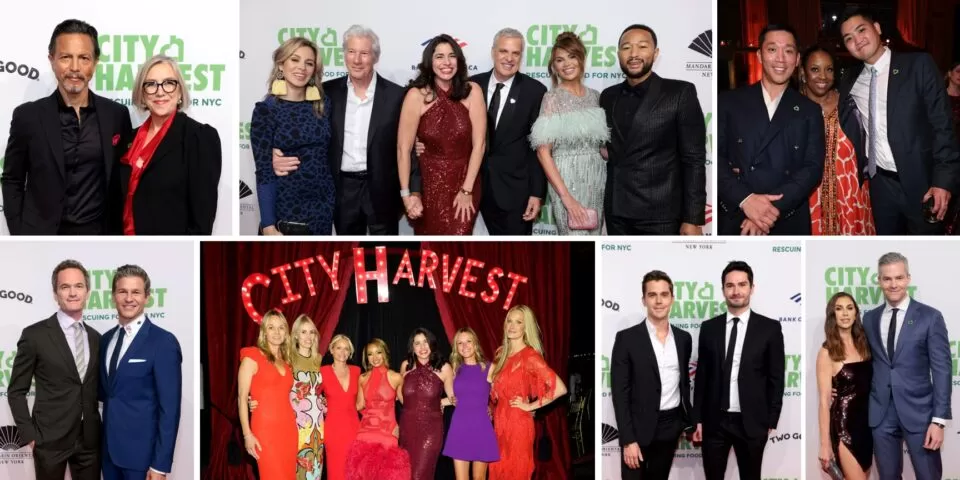 Tuesday, April 25, 2023
Cipriani, 110 E 42nd Street
Honoring our Frontline Heroes & our Board Chair Jim Kallman
Purchase Tickets Make a Contribution
City Harvest's Annual Gala brings together celebrities, influencers, and NYC's high-profile individuals to honor supporters who have played a significant role in helping us to feed our neighbors in need. The Gala serves as City Harvest's most important fundraising event of the year, and this year's Gala will be especially meaningful as we honor our Frontline Heroes & our Board Chair Jim Kallman and mark 40 years serving New York City. The evening will feature a live auction with auctioneer Nicholas D. Lowry of Swann Auction Galleries. Our 2022 Gala was a record-setting evening, raising enough to help provide more than 12 million meals for New Yorkers in need.
Past attendees have included Antoni Porowski, Chrissy Teigen, John Legend, Neil Patrick Harris, David Burtka, Nas, Darren Criss, Richard Gere, Julianne Moore, Chelsea Clinton, Brooks Nader, Cynthia Nixon, Elizabeth Olsen, Benjamin Bratt, Ryan and Emilia Serhant, and Martha Stewart. Chef supporters have included Eric Ripert, Geoffrey Zakarian, José Andrés, Tom Colicchio, Alex Guarnaschelli, Anne Burrell, Ron Ben-Israel, Marc Murphy, Marcus Samuelsson, Melba Wilson, Donatella Arpaia, Michael White, Dominique Ansel, Vikas Khanna, and Ted Allen.
Guests must be 21+ to attend.
For tickets and tables, please contact Kathy Holding, Director of Special Events and Volunteer Programs at 646.412.0650 or‬ [email protected].
For sponsorship opportunities, please contact Tessa Lechleider, Coordinator of Business Partnerships at 646.412.0662 or [email protected].
Watch a Recap of City Harvest Presents the 2022 Gala: Red Supper Club
Produced by JWP
Event Design and Creative Direction by Colin Cowie Lifestyle
Guest Management by STAMP Event Co.
Live Entertainment by On The Move
Music by DJ Martial Simon
Invitation Design by Mario Avila Design
Thank You to Our Co-Chairs
Colin Cowie & Danny Peuscovich
Lise & Michael Evans
Alejandra & Richard Gere
Carola & Robert Jain
Christine & Richard Mack
Shirley Madhere-Weil & Michael Weil
Kirsten & Patrick McMahon
Heather Crosby Mnuchin
Sandra & Eric Ripert
Chrissy Teigen & John Legend
Thank You to Our Host Committee
Marjorie and Steven Adams
Cey Adams
Dominique Ansel
Ingrid V. Arneberg
Donatella Arpaia
E. Desiree Asher
Kathleen McCarthy and Matthew Baldwin
Nick Bathurst
Christophe Bellanca
Emma Bengtsson
Ron Ben-Israel
Dayna Hardin and Kenneth Bernardo
Eitan Bernath
Leslie and Ashish Bhutani
Matt Bomer
Scott R.  Brakebill
Twila and Ben Bram
Talisa Soto and Benjamin Bratt
Terrance Brennan
Nate Berkus and Jeremiah Brent
Anne Burrell
Neil Patrick Harris and David Burtka
Archana and PJ Calapa
Mario Cantone
Andrew Carmellini
Alida Boer and Jason Carroll
Cesare Casella
CCS Fundraising
Michael Chernow
Jamie and David  Chubak
Dan Churchill
Andy Cohen
Jake Cohen
Tom Colicchio
Richard S. Berry and Lucy A. Commoner
Debi Mazar and Gabriele Corcos
Dana Cowin
Billy Crudup
Alan Cumming
Ariane Daguin
Kristin Davis
Lea DeLaria
Rocco DiSpirito
Lili and Wilson Ervin
Aretah Ettarh
Tamsen Fadal
Elizabeth Falkner
Victoria and Josh Feltman
Marc  Forgione
Katie Workman and Gary Freilich
Kerrie D. MacPherson and David A. Gatchell
Markus Glocker
Kristen and Marc Glosserman
Whoopi Goldberg
Camille and Cody Goldstein
Maneesh K. Goyal
Kris and Marc Granetz
Eden Grinshpan
Beth and Peter Hammack
Grace Koo and Kerry Heffernan
Hektad
Eric Holder
Nadine A. Mirchandani and Stuart M. Huberman
Chanel Iman
Sharon H.  Jacquet
Rita Jammet
Austin Johnson
Judy Joo
Herb Karlitz
Matt Katakis
Tara Halper and Jaret Keller

Clinton Kelly
Naeem Khan
Simon Kim
Gabriel Kreuther
Talib Kweli
Nathan Lane
Ann and Denis Leary
Fran Lebowitz
Anita Lo
Michael Lomonaco
Justin Long
Pino Luongo
Roni Mazumdar
Ed McFarland
Christopher Meloni
Danny Mena
George Mendes
Audrey and Danny Meyer
Seth Meyers
Wendy and Bill Mills
Denevin Miranda
Isaac Mizrahi
Marc Murphy
Brooks Nader
Grace Ann Nader
Mary Holland Nader
Sarah Jane Nader
Mitsunobu Nagae
Hari Nayak
Tracy Nieporent
Chintan Pandya
Becca Parrish
Francois Payard
Valerie and Jeffrey Peltier
Jason Pfeifer
Dascha Polanco
Antoni Porowski
Alfred Portale
Zachary Quinto
Andrew Rannells
Basu Ratnam
Zofia and Jean Reno
Ted Allen and Barry Rice
Molly Ringwald
Jimmy Rizvi
David Rockwell
Stephanie Goldman Rosen and Steven Rosen
Chris Santos
Susan Sarandon
Erica and Eric Schwartz
Amy Sedaris
Emilia and Ryan Serhant
David Shim
Martin Short
Gail Simmons
Ivy Stark
Angie Rito and Scott Tacinelli
Bill Telepan
Hong Thaimee
Michael Urie
Kerone Vatel
Ochi and Cedric Vongerichten
Wafra Inc.
Kimberly Cooper and Orin Wilf
Vanessa Williams
Melba Wilson
Christine Hikawa and David Windreich
Meghan and Michael Young
Margaret and Geoffrey Zakarian
Andrew Zimmern
---
"New York's Most Glamorous Dinner Party."

---
"One of the Top 5 Benefits in the US and Canada."